Image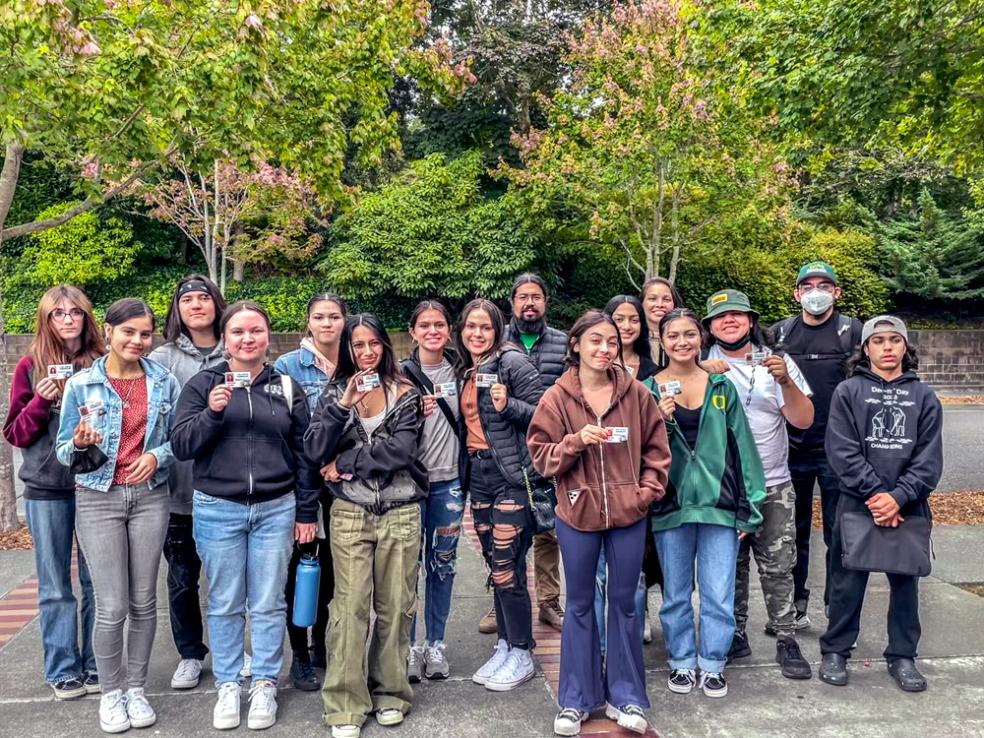 Focused on Indigenous history and culture, the American Indian Education course kicked off in September with 20 Native students from various high schools throughout Humboldt County.
When Cal Poly Humboldt Professor Sara L. Chase Merrick was given the chance to create a high-school-based course aimed at Native American students, she leaned on the memories of her own experience when she was that age.
"I was thinking, 'What is the course I would have wanted to take?'" says Merrick, a 2010 graduate of Hoopa High School. "We strategized about what made the most sense."
What emerged was a dual-enrollment class focused on Indigenous history and culture. The American Indian Education course is titled "Social and Cultural Considerations, Our Indigenous Knowledges and Futures." The largely online course kicked off in September with 20 Native students at various high schools throughout Humboldt County.
With program funding of more than $40,000 coming from several agencies, including the Yurok Tribe, Blue Lake Rancheria, and Department of Education's TRIO program, the course is the first in what is expected to be an ongoing series, with one class on a different topic being offered each semester, including a summer course. The grant is directed specifically at Native students, but Merrick said non-Native students are not excluded from enrolling.
An Assistant Professor of Child Development and American Indian Education, Merrick says students in the course will learn how their histories and traditional knowledge are vital and relevant, and how they fit in with today's national and global perspectives and issues. 
"When I went to college, I didn't feel I understood history in a way I should have, in relation to colonization and the ways it still impacts our communities and the world as well as the importance of Indigenous knowledge to global issues," says Merrick, who earned a B.A. in Indigenous Studies and Linguistics from Columbia University before getting her Ph.D. in Education and Indigenous Language Revitalization from UC Berkeley. "I think it would have helped me to have this kind of course. I think I would have been much more grounded and secure outside of the Hoopa community."
Sasheen Shailee Raymond is Cal Poly Humboldt's Director of Indian Tribal and Education Personnel Programs & Elite Scholars. She recruited Native students for the course, which she thinks will play an important role in meeting their unique educational needs.
"I went to Eureka High School," Raymond says. "It wasn't until college that I had another Native person in class. It's crucial when students can go to a classroom and see people that look like them. It's encouraging."
Had she been able to avail herself of a course such as the one Merrick is teaching,Raymond thinks it would have helped her.
"It would have given me more confidence that all the knowledge our people have is crucial and valid," she says.
The course teaches students to use relevant theories to study contemporary and historical experiences of Indigenous youth, their families and communities. Course topics include: the history of education from an Indigenous perspective, relationships to land, language revitalization, stories, and decolonization. A variety of interactive activities, including field trips, will be part of the course along with presentations by tribal experts.
Alison Robbins is the executive director of the Blue Lake Rancheria Tribal Education Agency. She says the idea was to provide students with a positive experience regarding their roots. 
"Blue Lake Rancheria Tribal Education Agency and its partners in the Consortium for Tribal Innovation and Entrepreneurship sought to create this opportunity for Native students because of the tremendous experience it provides in both nurturing their love and respect for their own culture and encouraging lifelong learning," Robbins says.
Students can establish a network of fellow Native students and instructors, she says, that will not only help support them as they transition from high school to college, but also in their community, professional and volunteer endeavors.
"Participating in a class which is taught by a Native American professor from a local tribe also allows these Native students to meet and learn from a role model, someone they can identify with" Robbins says. "This, in turn, should enable them to envision themselves as not just a learner, but potentially a teacher and role model to those that come after them."
Merrick says the program is also a chance for students in grades 9-12 to get a leg up on their college studies. Students will earn both high school and college credits and the courses will help satisfy a portion of college requirements.
More importantly, Merrick adds, it will give them an experience many of them might not otherwise get.
"I wanted them to recognize how special it is to have an all-Native-student class," she says. "We want them to see that indigenous knowledge can lead you through college and into your career."