Artist Mark Allen Soderstrom poses the question: How does one weigh a soul?
Image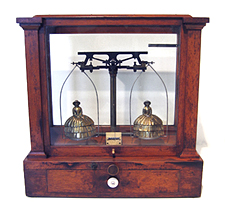 "The Scale for Determining the Weight of a Soul," and other works by local artist and Humboldt State University alumnus Mark Allen Soderstrom, will be on display as part of his exhibit, Parallax, at the Reese Bullen Gallery at HSU. The public is encouraged to attend the opening reception on Thursday, February 21 2008, from 5 to 7 p.m. The exhibit runs from February 22 – March 25 with the exception of being closed during spring break, March 15 -23.
While earning his BA from Humboldt State University, Soderstrom focused on photography, printmaking, and exhibition management. His work turned to more sculptural and experience-oriented projects while completing his Masters of Fine Arts studies at Mills College. Today, the artist lives in Humboldt County where he owns and operates Southstream Art Services in Arcata, Calif.
Image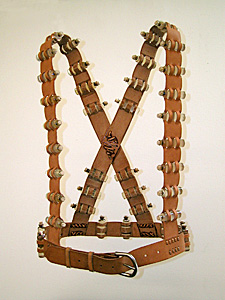 The word "parallax" means the shift in apparent position of something being observed based on different vantage viewpoints. Through his art, Soderstrom presents the viewer with multiple means of looking at the world and in the end leads the viewer to evaluate their own point of view. These are presented through theological, literary, philosophical, cultural, and historical perspectives, as well as those rooted in his own experiential beliefs. One example is "Flying Belt," which has been associated with Cyrano De Bergerac and Baron Von Munchausen, great storytellers (and notorious exaggerators) from real or imaginary history. During the Middle Ages there was an enlightened man sitting in a field at dawn, so the story goes. As the sun rose and spread its warmth upon field, the dew began to release itself from the grass and float upward. "What miracle do I see," thought the man? He came to the conclusion that dew is a substance that when illuminated by sunlight, becomes lighter than air. He deduced that if he could fashion a belt affixed with bottles of dew, then he could use it to fly.
The "Scale for Determining the Weight of a Soul" is another example of such inspiration. This sculpture is based on the early Germanic belief that because bells have "voices" they must also have souls; therefore these souls could be possessed or ensnared. Thus, many of the town bells as well as their church bells were baptized. This piece asks, what is the difference in weight of a soul that has been baptized and a soul that has not? Both of the bells in the artwork are of English origin and take the form of young women. The only difference is that one of the bells has been formally baptized.
• The Reese Bullen Gallery is open Monday through Wednesday and Fridays 12 to 5 p.m., Thursdays 12 to 7 p.m., and Saturday, 10 to 2 p.m. Admission is free. Parking permits are available on Harpst Street, just off L.K. Wood Blvd for $3.00 per day. For more information, please contact our staff at 707-826-5814 or rbg@humboldt.edu.
• Visit Mark Allen Soderstrom's web site to learn more about the artist.