Sonatas by Mozart, Brahms and Aaron Copland highlight the November 10 concert at HSU by violinist Cindy Moyer and, in her debut appearance in the Faculty Artist Series, pianist Ching-Ming Cheng.
According to HSU Professor of Music Cindy Moyer the Mozart Sonata in A is "one of the last and one of the best he wrote. The first movement is cheerful, while the last is the Mozart equivalent of a rollicking barn dance—especially the piano part, which has many notes!"
Image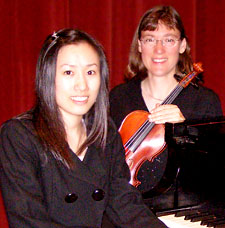 That will be the first challenge for pianist Ching-Ming Cheng. Born in Taiwan, she has just completed her doctorate at the University of Miami, and is now teaching piano at HSU.
The next challenge is the Sonata for violin and piano that Aaron Copland wrote in 1943, in memory of a friend who had recently been killed in World War II. "The first two movements have that wide-open-spaces American sound that we associate with Copland," Moyer said, "but the final movement is more aggressive and jaunty."
Next on the program, the Brahms Sonata #1 in G Major is "my favorite of the three he wrote," Moyer said. " It's lyrical, intense, passionate—everything that's great about Brahms!"
Completing the evening is Danse Espangole, a transcription of a dance from the opera La Vida Breve by 20th century composer Manuel De Falla. "It's very Spanish in style—a fun, flashy piece," Moyer said, and added, "Although the arrangement is for just violin and piano, the audience will have no problem imagining the castanets!"
This Faculty Artist Series concert by violinist Cindy Moyer and pianist Ching-Ming Cheng play sonatas by Mozart, Brahms and Copland, beginning at 8 pm on Saturday, November 10 in the Fulkerson Recital Hall on the HSU campus in Arcata. Tickets are $8 general, $3 students and seniors from HSU Ticket Office 826-3928) or at the door. Info: http://HSUMusic.blogspot.com.