Not every master's thesis turns into an award-winning sustainability enterprise. But that's just what happened for alum Alex Eaton ('09), who earned his master's degree in Environmental Systems.
Image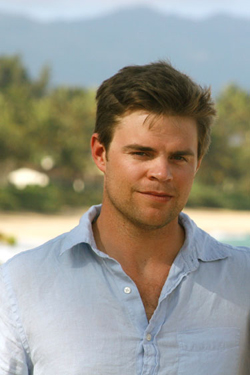 The biodigester that Eaton designed, which turns pig waste into a fuel source, won first place out of thousands of submissions in the Business in Development Network's Clean Energy Challenge in June. In addition to the $10,000 award, Eaton was flown to the Netherlands to meet with venture capitalists interested in socially responsible projects.
Eaton, who grew up in New Hampshire, was in Mexico on a surfing trip when he began volunteering for the non-profit International Renewable Resources Institute (IRRI). He is now the executive director.
In Mexico he spent time on pig farms conducting research for his master's thesis. For that project, he designed a small biodigester, which takes dung mixed with water and, using anaerobic bacteria, produces methane. That, in turn, can be used by a family as a fuel source for cooking and heating. The process also acts as a waste treatment system, with the end product being organic fertilizer that can be safely used on crops.
With the success of his biodigester, Eaton decided to make it commercially available for small, family farms. To do that, he had to write a business proposal, which is where the Clean Energy Challenge came in.
His new company, Sistema Biobolsa, opened its doors in April and has plans to develop a plant in Kenya this year.
"I was always the pig s--- guy," says Eaton. "Now, seeing the response to my work, it has finally paid off."