Image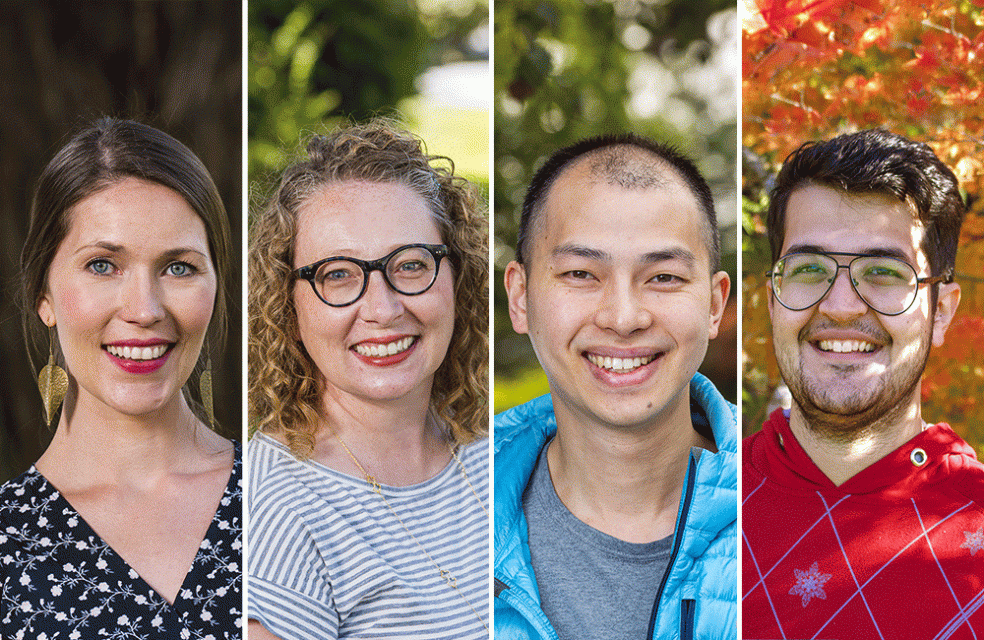 The awards honor President Alistair McCrone and recognize the accomplishments of Humboldt's excellent newer faculty members and students.
Cal Poly Humboldt professors Tani Sebro, Department of Politics; Sara Sterner, School of Education; and Ho Yi Wan, Department of Wildlife, are recipients of the 2022 McCrone Promising Faculty Scholars Award.
Selected for exhibiting potential in a specific field, each faculty member will receive $1,500 to assist a program of creative activity, scholarship, or research. In addition, Wildlife graduate student Danial Nayeri won the Alistair and Judith McCrone Graduate Fellowship. Nayeri has been selected for demonstrating potential to succeed in his chosen field, and will have $3,000 applied to his tuition for the upcoming academic year.
The awards honor President Alistair McCrone and recognize the accomplishments of Humboldt's excellent newer faculty members and students.
Following are brief biographies of the 2022 McCrone Promising Faculty Scholars and the Alistair & Judith McCrone Graduate Fellowship Award winner.
Professor Tani Sebro, Department of Politics, is an expert in Asian Studies, specifically the politics of Myanmar, ethnic identity, nationalism, and refugee rights. Her primary research location is on the Thai-Myanmar border and she has secured funding for field research through the Fulbright ASEAN U.S. Scholar program. In Spring of 2021, as a response to the coup in Myanmar, she worked with the Burma Studies Group to provide critical support to Burmese scholars and students at risk. She is also a recognized expert in political ethnography and is the co-founder of the Political Ethnography Working Group at the American Political Science Association. Her work in political ethnography represents the fusion of her training in anthropology with her research in political science. Sebro is well on her way to being a scholar of note in the international community.
Students regularly rank her highly as a teacher and she has recruited several political science majors to the Global Politics concentration, which is her area of focus. She is an excellent academic advisor and she is the club adviser to the Politics Club. She also teaches courses for the International Studies program, and she designed and implemented a fully online International Education Week in Spring 2021. 
 
School of Education Professor Sara K. Sterner's scholarship significantly contributes to the field of children's and adolescent literacy development and teacher education. The impact of her work reaches far beyond Cal Poly Humboldt and has the potential to dramatically shift the experiences of children and adolescents in K-12 classrooms through their experiences of equitable, inclusive, and culturally responsive literacy instruction. The broad scope of Sterner's research agenda focuses on equity and inclusivity in children's and adolescent literature with specific emphasis on teacher preparation. The overarching goal of her scholarship centers on dismantling white supremacy in K-12 schools. One of her greatest contributions to the field has been her development and exploration of the concept of reading whitely, a term she coined in her dissertation work and her 2019 publication, The Phenomenon of Reading Whitely: A Post-Intentional Phenomenological Exploration.
Since joining Cal Poly Humboldt, Sterner has published two peer-reviewed articles, including one in the top-tier Journal of Children's Literature. Sterner has also had nine accepted conference presentations including the prestigious Literacy Research Association and the American Educational Research Association. Currently, she is writing a book about post-intentional phenology. Sterner, with two colleagues, is also completing the data analysis process on a study they completed with a focus on humanizing online spaces. The writing collective has been approached to consider the possibility of manuscript publication. In addition to the promise of Sterner's scholarship, her research aligns with the mission and values of Humboldt which focuses on equity, informed action, and diversity of people and perspectives in the effort to become stewards of learning to make a positive difference.
 
Professor Ho Yi Wan, Department of Wildlife, has been a very productive scholar, publishing 13 peer-reviewed articles in prestigious journals in the past two years. His work spans the globe from California to Iran, covering desert, forest, and marine ecosystems, and includes research on invertebrate gastropods, owls, brown bears, and more. He has covered an impressive range of geography and taxa, all united by the common theme of needing an expert spatial analyst to summarize critical conservation and management data.
Wan has also served as the lead or co-lead researcher on nearly $100,000 in awarded grants since arriving at Humboldt. Wan is also dedicated to supporting a diverse student body, which he is modeling in the department by starting with his research lab. Wan has made a sincere effort to reach out and be available to our many agency partners with whom many faculty and students work, including projects on spotted owls and Roosevelt elk. Despite keeping busy with his research activities, Wan has also been a dedicated teacher, focusing on updating materials for two key courses. Wan sits on the thesis committees of nine graduate students, and he has served as a reviewer for several publications in support of his professional colleagues.
 
Wildlife graduate student Danial Nayeri has been passionate about wildlife since he was a child, and was determined to visit protected areas for cheetahs in Iran and wanted to help conserve  populations of entire species. Nayeri earned a bachelor's degree in Environmental Science at the University of Tehran. Despite ongoing restrictions imposed by the Iranian government on the conservation community, he participated in as many conservation projects as possible, helping undergraduate and graduate environmental science students at the University of Tehran with their theses and research projects, study design, field surveys, questionnaire surveys, and spatial modeling.
Nayeri's master's thesis aims to investigate how spotted owl habitats respond to climate change and increasing wildfires. The spotted owl's population has continued to decline over the last few decades due to habitat loss from logging, wildfires, climate change, and invasive species. Nayeri enjoys communicating scientific findings through writing and presentations, and has published three peer-reviewed scientific articles in international journals since enrolling at Cal Poly Humboldt. Nayeri is an advocate in advancing diversity and inclusion in academia. His dream job is to be a wildlife researcher who conducts practical and solution-oriented research. He also hopes to educate and inspire the next generation of researchers and help them to achieve their goals.