Image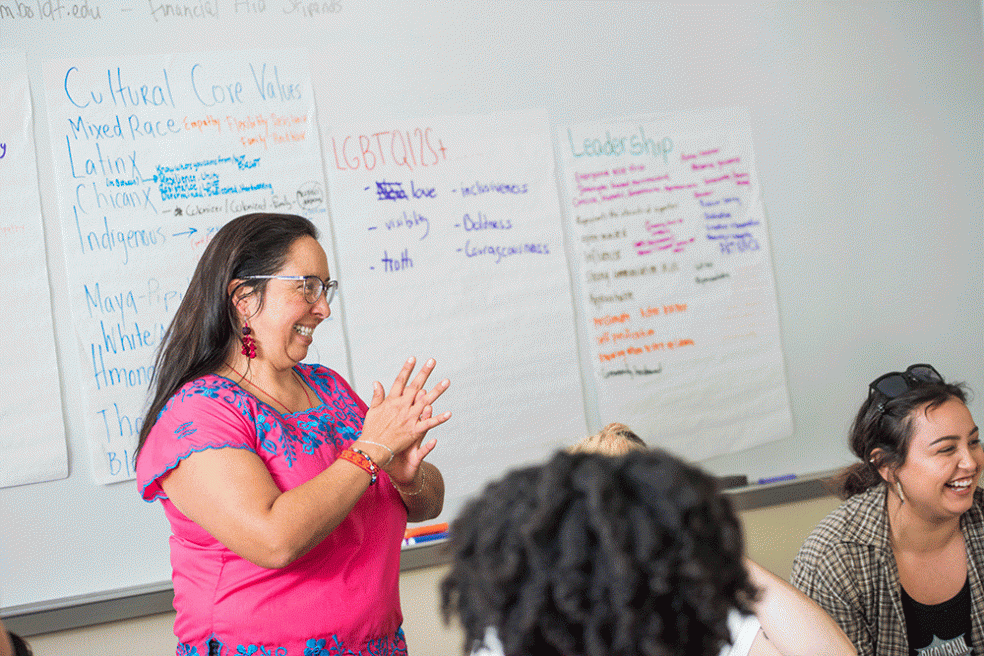 Classrooms around the country are becoming more diverse, underscoring the need for a teaching force and curricula that reflect and support this diversity.
To help meet these needs, Education Professor Marisol Ruiz created the Promotorx Transformative Educator Program in 2018 for Cal Poly Humboldt students who are interested in careers in education. The program teaches its fellows how to create sustainable curricula that are driven by the needs and strengths of the youth they work with.
Ruiz modeled the program after promotores—community healthcare workers who aim to create access and support services for Latinx community members.
"It's the same concept in education," she explains.
As part of this process, fellows develop reading and writing workshops for local high schoolers in Fortuna, Eureka, and Arcata. The literacy workshops focus on diversifying the literature children read, and discussing issues important to them.
The stories they introduce help decolonialize the learning process by showcasing an array of voices, Ruiz explains. Some books include: Braiding Sweetgrass for Young Adults: Indigenous Wisdom, Scientific Knowledge, and the Teachings of Plants; Indian No More—a story about efforts to relocate Natives told through the eyes of a fifth grader; and One Crazy Summer—a book about three sisters who visit their mom in Oakland and attend a day camp run by the Black Panthers.
"These readings help teach us how to be more human, respect one another, and empathize with each other's struggle," Ruiz says. "They help us understand different experiences, help bust the myths or stereotypes in your head."
So far, more than 100 fellows have participated in the program. All students, especially those interested in a career in education, can apply. Ten participants are chosen each semester, and each is awarded a $600 stipend. The program is funded by the U.S. Department of Education's Developing Hispanic-Serving Institutions program grant.
Gina Cerda Salvarrey, an Education graduate student who has participated in the program three times, says she learned critical theories and sustainable pedagogies that she can put into practice.
"I've learned that the activities that most impact students are those where they can center on their story, where they can connect with their culture, their identities, and their roots," she says.
"It's very motivating professionally because the students allow me to learn from them and about the needs they have as non-dominant students," Cerda Salvarrey adds. "But what is most impactful for me is when students comment that this is the first time a class has given them a space where they can express themselves and show their abilities without fear."
Program fellows learn that education is not just top-down; educators learn from students, and in turn, incorporate their perspectives into their lesson plans.
"We make sure we are listening to youth," Ruiz adds. "They have a say in what they learn."
Accordingly, high schoolers also participate in writing workshops. This gives them a chance to tell their own stories in English, Spanish, or both. Their works are often published in Courageous Cuentos: A Journal of Counternarratives. The journal, published by the Department of Critical Race, Gender & Sexuality Studies, includes stories and poetry about identity, culture, growing up, and more.
Courageous Cuentos is a valuable resource for students and teachers, Ruiz says. Reading the students' testimonials inspires empathy and understanding, and helps educators create meaningful lessons. For students, writing helps them find their voice; it empowers them to identify and express how they feel; and it is restorative.
"It's important to tell stories in order to heal," says Ruiz.
While the program gives students tools to thrive, it provides fellows with the resources they need to become educators. For example, fellows complete 40 hours of service each semester, which helps fulfill the hours needed to apply for a credential program. Fellows also complete livescans, and TB tests, and prepare for the CSET and CBEST exams. They also learn about policy, decolonizing pedagogy, and how to approach issues such as harassment.
"It's important for people who want to be teachers to understand the dynamics of learning," Ruiz adds. "It's not just teaching and learning—there's so much happening in schools."
The program empowers both high school and college students. While it helps high schoolers find their voices, Humboldt students see the role they play in this process and the impact of their lessons.
For Cerda Salvarrey, it's also helped her find a community of the other Humboldt students with whom she can share her struggles in the world of education and in life. "It has been a niche where we can explore ideas and re-imagine the educational world we want to be a part of," she says.