Image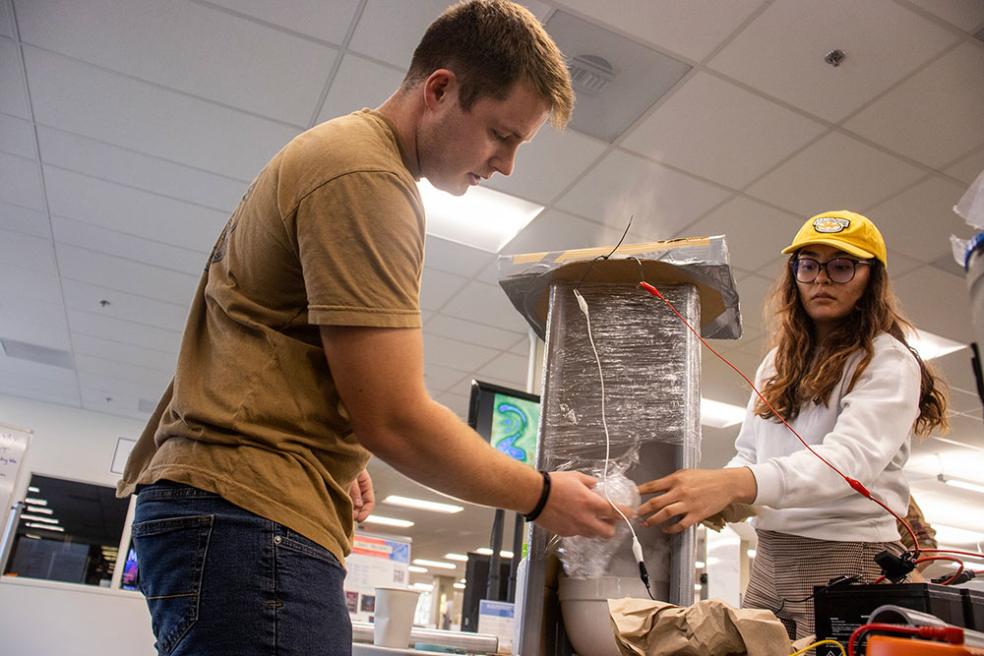 The Cal Poly Humboldt Library's new Makerspace gives students host of cutting-edge tools to create, learn, and take advantage of the many resources provided.
Everything included within the Makerspace is free for students and the space hosts weekly workshops that encourage people to pick up a new skill. 
Noteworthy resources available include a 3-D printer, virtual reality station, augmented reality sandbox, and flight simulator. 
The space also offers a green-screen room, an audio workstation for music and podcasts, and a button maker that can be used for personal and/or club use. 
Another Makerspace-exclusive is the only digital dissection table in any California library, which allows students to virtually view the inner workings of the human body and hundreds of animals. 
Cyril Oberlander, dean of the University Library, says he hopes this state-of-the-art digital table will "be able to dissect hundreds of plant species" in the near future. 
At a recent "Prototyping Day" engineering and journalism students collaborated to build prototypes for interactive science-themed exhibits that will soon be featured at the Discovery Museum in Eureka. The Discovery Museum worked with Humboldt to develop this experiential learning activity that will add more engaging exhibits and bring in more guests.
The exhibits are intended to teach children about various science topics such as tornadoes, magnetism, and machinery in a way that is both educational and fun. 
The engineering students said getting out of the classroom and having the opportunity to work on hands-on projects has been beneficial. 
"It's so much better than everything else," says Fenix Banaskiewicz, an engineering students. "I think it feels really good because we're actually building everything we've been lectured on."
In addition, the engineering students were excited to be able to use Makerspace's 3D printer, which saves time and reduces costs when producing class projects. 
The Makerspace  located on the second floor of the Library. Learn more about the Makerspace on the Library website.