Humboldt State University's new hydrogen fueling facility is the first rural station on California's 'Hydrogen Highway,' and a crucial link between renewable energy and transportation fuel that started with a handful of engineering students.
Image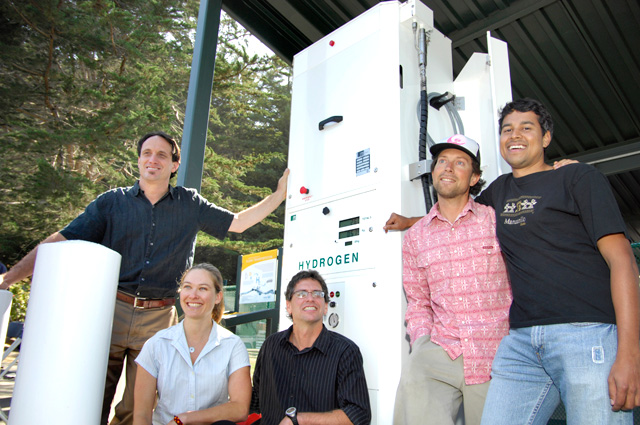 The highway is an expanding network of stations statewide and nationwide—27 in California, 70 across the country—and Humboldt State's outpost powers a hydrogen-fueled Toyota Prius. Eventually, the network will allow hydrogen-powered vehicles to travel throughout the state as demand intensifies for alternative sources of fuel.
 
Under the guidance of the Schatz Energy Research Center, it was the creative spark of students Juliette Bohn, Nicole Campbell, David Carter, Anand Gopal, Dustin Jolley, Stephen Kullmann, Steve Lora, Matthew Marshall, Avram Pearlman, and Doug Saucedo that enabled Humboldt State to win an international design contest and paved the way for the station's grand opening Sept. 4.
 
"As with so many other good things at HSU, this effort had its genesis in an idea that came from students," President Rollin Richmond told attendees. "This facility is important, not just because it is a first for universities in this country, but also because the idea fits so well with the basic values of HSU."
Image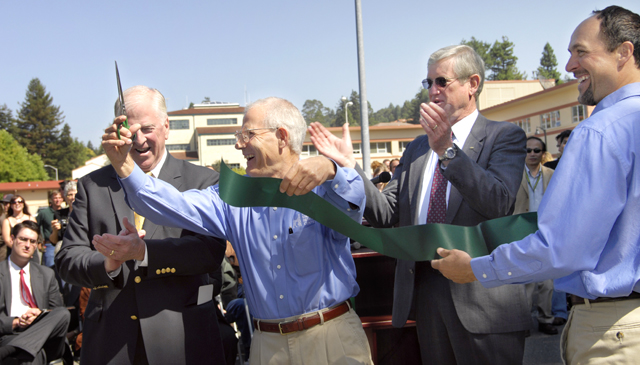 "We're making hydrogen fuel here from electricity and water," SERC Director Peter Lehman said at the ribbon-cutting. "Whether it's biomass, wind or solar power, if we have renewable electricity, we can make clean fuel and we can do it sustainably."
 
Hydrogen fuel produced by wind or solar energy helps reduce climate change. What is more, Lehman underscored, Humboldt County enjoys an abundance of renewable energy. "We have a huge biomass resource—we already produce more than half our electricity from wood. Bear River Ridge, south of Ferndale, has 150 megawatts of wind power capacity. And our largest renewable resource is the power in the waves that crash into our beautiful North Coast."
 
Despite the region's cloudy weather, he added, Humboldt County has more solar systems per capita than anywhere else in California. "Imagine a Humboldt County where there's a solar system on every roof and our electricity and heat come from renewable resources," he said.  
HSU's station produces enough clean hydrogen fuel to maintain a fleet of four hydrogen-powered cars. The SERC is pursuing funding and vehicle suppliers for a planned hydrogen car fleet, integral to the center's effort to create a hydrogen infrastructure throughout Humboldt County.
 
Representative Mike Thompson noted that the station's opening coincides with the recent adoption by Congress of stiffer auto fuel efficiency standards, the first time in 32 years that lawmakers have enacted such legislation.
Image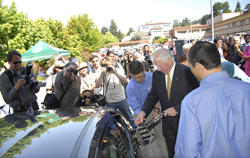 Humboldt State students first conceived of the fueling outpost in their submission to the National Hydrogen Association's H2U International Design Competition. SERC engineers went on to design and construct the station with the help of HSU Plant Operations staff. Other project collaborators included Chevron Technology Ventures, the California Department of Transportation, the North Coast Unified Air Quality Management District and O&M Industries, which built the station's canopies and partially defrayed their cost. The facility is located off Rossow Street, behind the newly refurbished Harry Griffith Hall.
 
Provided by the California Air Resources Board to promote alternative transportation fuels, the Toyota Prius is being shared by Humboldt State and other public agencies that have jointly supported the station project. The car was converted by Quantum Technologies of Irvine to run on hydrogen gas.
 
The SERC has played an historic role in Humboldt State's decades-old reputation for green technology leadership. Ten years ago, the center built California's first—and the nation's first—hydrogen fueling station. The SERC conducts research and development of new technology; designs, builds, operates, and demonstrates clean and renewable energy systems; provides training for professionals; and educates the public about sustainable energy.