What's to be done with the disposable plastics that are cluttering landfills and waterways? Humboldt State's School of Business students asked themselves that question, and in just a few months, they made an idea a winning reality at the Future Four and More, a CSU-wide business competition that takes place every year at Sacramento State.
Image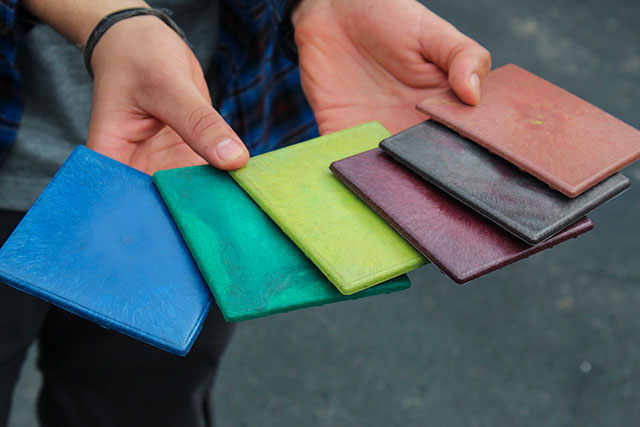 It all began at the local Startup Weekend, an annual 54-hour competitive business incubator, where MBA student Matthew Cendejas knew he wanted to recycle plastic into something permanent and positive.
China stopped importing recycled plastics from the U.S. last year, closing a major path for plastic recycling. In the U.S. less than 4 percent of plastics are recycled, and municipal recycling programs around the country are closing or reducing services. Read a news story about recycling issues.
Cendejas brought those concerns to Startup Weekend. He and MBA student Scott Strong, and Business undergrads Madison Butko and Jesus Flores discussed building materials and other products that could be made from recycled plastic. In the course of their research, they discovered a niche to be filled with bathroom and kitchen tiles.
By the end of the weekend, their proposal had won first place. They each invested $325 into a mold and set their sites on Future Four and More. Protoypes in hand—though not without some Powerpoint related hiccups, Butko says—they swept the event, winning first place and earning prizes for crowd favorite and sustainability.
"The judging team really liked us," Strong says. "You could tell there was a genuine interest in the product."
In second place was another team of HSU entrepreneurs, Matthew Peters, Nic Martin, Eric Rosenblat, and Matt Sutton, who were pitching honey sticks infused with natural medicinal herbs as "New World Herbals."
Image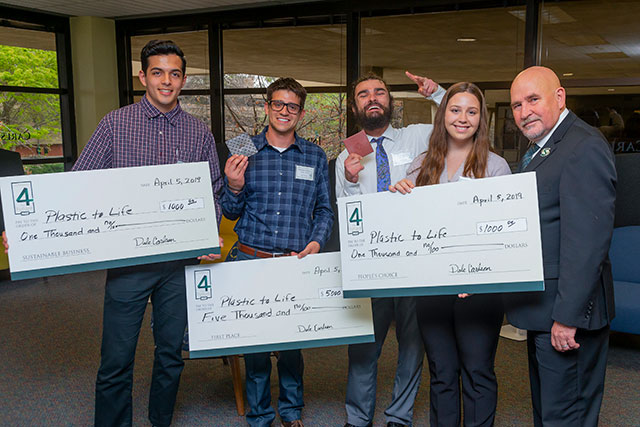 With their winnings—and positive feedback from local and out-of-town investors—things are moving fast for the "Plastic to Life" team.
"We felt like that was a green light to go for it," Cendejas says, "so we've been filing patents, forming an LLC, and applying for a business license."
They hope to be in business by the end of the month, with tiles for sale through local wholesalers and available online. They'll continue to expand their selection, developing new sizes, colors, textures, and more.
The tiles they developed are colorful and lightweight, and offer an array of possibility. Turning discarded plastic into affordable, permanent building materials just made sense, the team says.
"The plastic we're throwing away is going to be around longer than us, so we might as well use it," Cendejas says.
The team says sustainability is a core philosophy of the graduate and undergraduate business programs.
"Everything at startup weekend had sustainability elements, even though that wasn't a requirement," says Strong. "It speaks volumes to what Humboldt State offers and focuses on."
Learn more about Plastic to Life on Twitter and Facebook: plastic2life; and Instagram: plastic2life.co