Image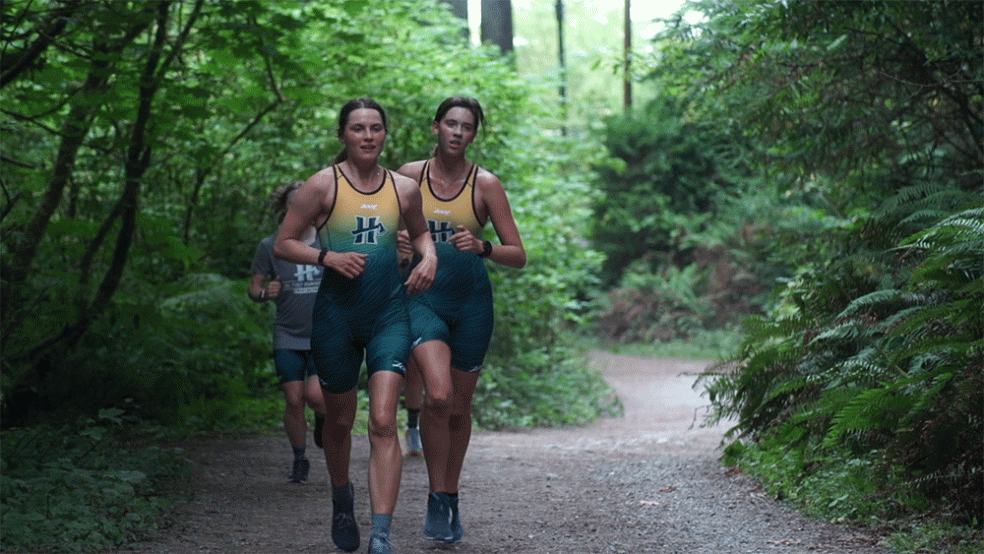 Biking farm roads in the Arcata Bottoms, running trails in the Community Forest and swimming the frigid waters of Humboldt Bay and Big Lagoon, student-athletes on Cal Poly Humboldt's Women's Triathlon team have been experiencing all of Humboldt County's natural offerings as part of their rigorous training program.
"There's nothing better than going to Big Lagoon on a Saturday morning," second-year athlete and Environmental Science & Management student Farrah Tyler says. "You come out just totally exhilarated and alive. It reminds me every time how special it is and how much I love being here."
As one of only 42 schools in the nation and one of three on the West Coast to sponsor women's triathlon, Humboldt's strong science background attracts potential student-athletes who want the opportunity to compete collegiately, coach Kinsey Mattison says.
"The number of teams in the country is limited and especially the number of schools that have any kind of science opportunities," Mattison says. "The fact that we're a polytechnic is really attractive to any high school triathlete who wants to continue in that field of study."
In just their second season, the team has expanded to include recruited athletes alongside returners from last year's inaugural squad, all of whom have experience with at least one or two of the sport's disciplines.
"I think the most important thing to be a triathlete is to be brave and to be humble," Mattison says. "There is going to be a part of the sport that you're not good at." 
Despite the challenge of mastering three different disciplines, triathlon, according to Mattison, is a sport that is very open and welcoming to newcomers. The coach also emphasized the importance of teaching the sport to new athletes.
"You don't have to have previous draft-legal triathlon experience to be a part of this team," Mattison says. "You need to have some experience at one or two of those disciplines and we can teach you how to be a triathlete."
The team is currently nearing the end of the fall season, which concludes with the NCAA National Championships in Tempe, Arizona on Saturday, Nov. 11.