Image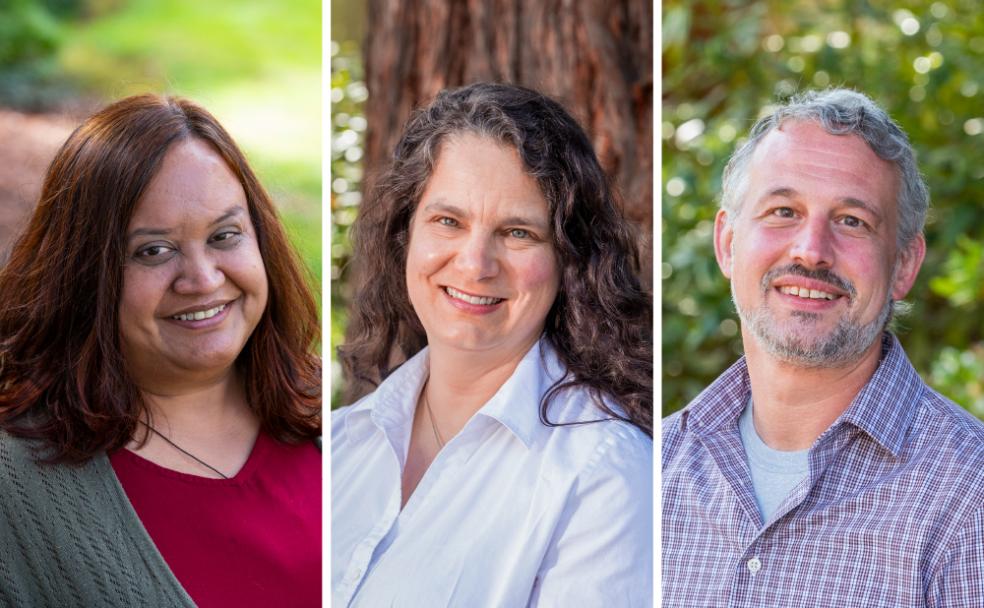 Child Development Professor Meenal Rana; Mathematics instructor Sonja Manor; and Forestry Professor Jeff Kane are being recognized for their excellence in teaching and scholarship.
Since 1964, Cal Poly Humboldt has honored outstanding faculty and in 1986, the University added the Scholar of the Year Award. Nominations are reviewed by the Faculty Awards Committee. Recommendations for awards recipients are made to the University Senate and forwarded to the President of the University. The President affirms and announces the recipients to the campus community.
Excellence in Teaching Award – Tenure Line faculty
Child Development Professor Meenal Rana's dedication to teaching shows in her scholarly work, service, and collaborative partnerships. Known for being supportive, thorough, energetic, and engaging, Rana actively engages her students in grant projects and scholarly activities. She also fosters unique hands-on experiences that connect research and practice. In 2018, for instance, she was the principal lead for the Rural Youth Volunteers in India. For this international and interdisciplinary project, students from Child Development, Environmental Science & Management, and Environmental Resources Engineering collaborated with students from Lady Irwin College, New Delhi, to work in two rural Indian communities on social entrepreneurship projects. Rana's collaborator, Environmental Resources Engineering instructor Lonny Grafman, shares, "It was a pleasure to see the academic background of Meenal be applied directly and rooted in the messy reality, on-the-ground, projects. She taught and applied theory, while taking daily feedback from students and stakeholders." 
Rana is solution-oriented and continuously treads new territory to provide the best opportunities for students. Since her appointment in 2013, she has taught at least 10 different courses including  Life-Span Development and Parent-Child Relationships, Methods of Observation, and Directed Field Experience. During the pandemic, she not only prepared new course content but also persevered through unique challenges. In one course, she worked on creating resources to emulate an experience similar to observing children in the Child Development Lab, which was closed during the pandemic. 
Engaged with and supportive of students, she tries new teaching strategies or uses familiar strategies in new ways—an inspiring approach that brings out the best in students and colleagues. The student members of the campus Child Development Association say, "Every now and then we encounter an educator who goes above and beyond the curriculum to foster relationships with students, inspire them, and help them grow personally and professionally. One such educator is Professor Rana. Her work does not end with each class day. She gives students her time and support to check in, discuss ideas, and help them pursue their passions."
That human connection, says Rana, is the most important aspect of her teaching, "which requires a reciprocal process in which both the teacher and the learner, with exchangeable roles, engage in a mutually respectful and meaningful relationship, remain curious, learn from one another, and agree to disagree."  
Excellence in Teaching Award – Lecturer faculty
Mathematics instructor Sonja Manor is an outstanding classroom instructor who gives carefully structured, well-organized, relevant, and engaging classes. She is personable and able to create an inclusive classroom atmosphere in which all students can grow and thrive. Her teaching style helps students see a place for themselves in STEM and provides them the tools to succeed. 
"My teaching philosophy is that every student should be provided with the opportunity for growth and empowerment through advancement in mathematics education," she says. "Students deserve quality education that is current, challenging, and fair, in a supportive environment. My ambition as an instructor is to provide concrete mathematical skills, and at the same time show the beauty, creativity, usefulness, and real-life applicability of mathematical thought.  I strive to put mathematics in a context that is meaningful, relevant, and alive for students." 
She particularly excels at closing the equity gap in the Math department's supported courses, which serve some of the University's most vulnerable students. Manor now teaches developmental mathematics and statistics. She has led the creation and implementation of the developmental mathematics curriculum and has provided professional development for colleagues who teach the courses, all with outstanding results. However, teaching developmental mathematics is difficult. Students taking these courses come from every department on campus. Success at this stage is critical, and frustrated students often change majors or drop out entirely. 
Understanding this, Manor is especially sensitive, inclusive, innovative, and effective, and her positive influence on students runs deep and wide. "I actually failed my AP Stats exam in high school which made me believe I was just bad at statistics," says one student. "However, Sonja allowed me to see the difference it makes when you have a great instructor. I now have a 97% in this course."  

Scholar of the Year
With an outstanding record of scholarly achievement and excellent teaching record, Forestry Professor Jeff Kane has established himself as a highly distinguished scholar. His work has been primarily centered around the topics of forest and fire ecology, including advancing fire and forest science, and informing better management of fire-prone ecosystems. He has been awarded $959,000 for 25 grants, and has 60 peer-reviewed publications, as well as 11 other recognized publications and reports. He has also given 55 live professional presentations and 33 professional poster presentations. 
Kane is extremely well respected in his field. One colleague noted that Kane is the go-to person for any interview on wildfire or fire education. Another said, "Kane is one of the best scholars in his discipline within the country." Kane's work connects his research to community and regional stakeholders. His nascent Fire Resilience Institute is one way he brings together academic and non-academic stakeholders concerned about fire, land management, restoration, and climate change. At an early meeting about the Institute, it was evident that Kane was prioritizing the input of multiple partners from around the region, including representatives from multiple Tribes. 
He is committed to using his research for the greater good, disseminating understanding of better fire practices at many professional conferences and also engaging different stakeholders within our region. 
At the same time, Kane remains dedicated to teaching. "While I find great satisfaction in conducting scientific research that I am passionate about, my favorite part of the research process is mentoring and collaborating with others, especially students. I tend to get excited about being involved with a group of interested researchers that creates an atmosphere of curiosity and interest in forest and fire ecology."