Humboldt State University President Tom Jackson, Jr. has awarded Loren Blanchard and Cris Koczera with the 2021 President's Distinguished Service Award for their meritorious contributions to the University and community.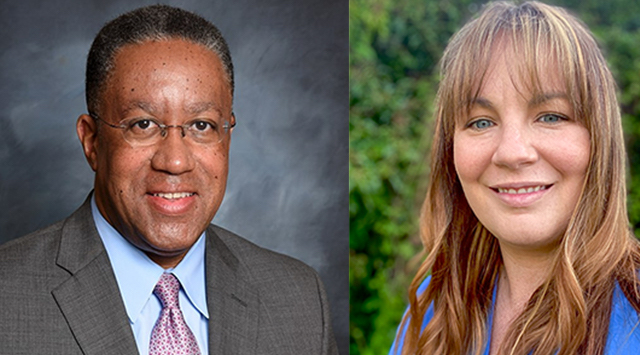 The recognition dates back to 1967 when HSU's first graduate, Susie Baker Fountain ('15), was honored with the first President's Distinguished Service Award for donating her historical archive to the University.
"Dr. Blanchard has been a champion for HSU. When we needed him most he quietly was our greatest ally in helping us address our diversity goals and believing in HSU as we discussed the potential of becoming a polytechnic. And Cris Koczera has been instrumental to our pandemic response over the past year. She guided our campus through the pandemic, built incredibly strong relations with the community and public health, and maintained a positive and 'can-do' attitude," says President Jackson. "The entire HSU community is grateful for their service and dedication to Humboldt."
Loren Blanchard served as the Executive Vice Chancellor for Academic and Student Affairs at California State University (CSU) for the past five years and was recently named President of the University of Houston-Downtown. President Jackson honored Blanchard for his commitment to equitable opportunities for all CSU students.
During his tenure at CSU, Blanchard developed educational policies for the 23-campus system, guided campus administrators on curricula, supported student affairs, and led a team of more than 150 employees across 12 departments. He also helped implement CSU's groundbreaking Graduation Initiative 2025, an ambitious effort to increase graduation rates for all students while eliminating equity gaps and preparing students to meet California's workforce needs.
A first-generation college graduate, Blanchard embraces the life-changing potential of higher education in reaching beyond race and class to provide a path to success. Blanchard holds a bachelor's degree from Xavier University, a master's degree in Education from McNeese State University, and a Ph.D. in Education Psychology from the University of Georgia. He is widely published and known for his research and scholarship on teacher education and strategies to support students of color in higher education.
With the award, President Jackson recognizes Blanchard's significant impact on HSU and commends his unwavering focus on students.
Emergency Coordinator and Director of Risk Management & Safety Services, Christina Koczera has worked in the field of emergency management and risk analysis for more than two decades. She brings with her the partnerships from the federal, state and local levels she has built over two decades, in addition to her passion for serving her community and the Humboldt State University community.
Cris has a long commitment to community service. In high school she began as a volunteer in Minnesota with the Minnesota Disaster Relief Corp and joined the AmeriCorps program, where she met her husband. They eventually moved to Arcata where she was hired by the American Red Cross out of the Eureka chapter and served in a number of roles within that organization. Since then, she has responded to more than 40 nationally declared disasters including 9/11, Hurricane Katrina, and Hurricane Sandy. She is the recipient of the Presidential Lifetime of Service Award, which is the nation's highest award in voluntary service.
Cris joined HSU in 2018 as the University's Emergency Coordinator and Business Continuity manager. Since then, she has been instrumental in guiding the campus through a number of unprecedented emergencies, including the pandemic. Her planning efforts have been key in fostering strong partnerships with Humboldt County Public Health and other local agencies.
For the last 11 years, she has coached Humboldt State Women's Lacrosse team. She has a degree in Emergency Management from American Public University, served as a chair for the local VOAD (Voluntary Organizations Active in Disaster) and the Redwood Tsunami Workgroup, and has served on the board of the local Habitat for Humanity chapter.