Eileen Cashman (professor of Environmental Resources Engineering), Nichole Muñoz-Murillo (deputy legislative secretary in the Office of Governor Newsom), Jason Ramos (Tribal council member for Blue Lake Rancheria), and Gary Rynearson (instructor of Forestry) were honored for their meritorious contributions to the University and community.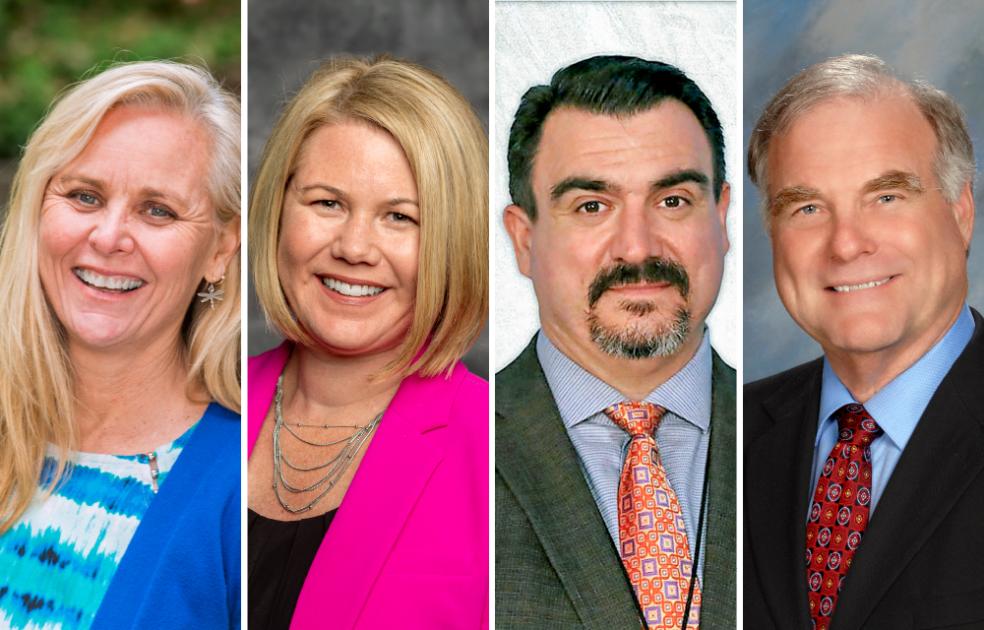 Cal Poly Humboldt President Tom Jackson, Jr. has honored Eileen Cashman (professor of Environmental Resources Engineering), Nichole Muñoz-Murillo (deputy legislative secretary in the Office of Governor Newsom), Jason Ramos (Tribal council member for Blue Lake Rancheria), and Gary Rynearson (instructor of Forestry) with the 2022 President's Distinguished Service Award for their meritorious contributions to the University and community.
The recognition dates back to 1967 when Humboldt State Normal School's first graduate, Susie Baker Fountain (1915), was honored with the first President's Distinguished Service Award for donating her historical archive to the school.
"This year we have some amazing honorees. They represent the spirit of service to others, whether that's through their commitment to higher education, giving voice to Native Tribes, or environmental conservation," says President Jackson. "Thanks to their work, they have made a difference in the lives of so many at Cal Poly Humboldt, the North Coast, and the state."
Eileen Cashman ('84, Environmental Resources Engineering), professor and chair of the Department of Environmental Resources Engineering at Cal Poly Humboldt, has 25 years of experience teaching undergraduate and graduate environmental engineering courses. She is a graduate of Humboldt State University where she got her bachelor's degree in Environmental Resources Engineering. She later pursued a master's degree in Land Resources and Energy Analysis and Policy, and a Ph.D. in Civil and Environmental Engineering from the University of Wisconsin at Madison. Prior to joining Cal Poly Humboldt, Cashman worked in Electric Resource Planning at PG&E, the U.S. Geological Survey, the Wisconsin Energy Conservation Corporation, and James Madison University.  
Her current research interests include engineered natural treatment systems, stormwater treatment design, aquatic restoration design, and engineering education. She co-led the Academic Programs Working Group for the Polytechnic self-study with Math Professor Bori Mazzag and she is currently serving as a co-lead for the Curriculum & Academic Programs Working Group during the implementation phase with Provost Jenn Capps. Cashman has been instrumental in helping the University plan and launch 27 new polytechnic programs by 2029.
Nichole Muñoz-Murillo serves as deputy legislative secretary in the Office of Governor Gavin Newsom. In her role, she advises on legislation impacting childcare, TK-12, and higher education. Prior to joining the Administration, Muñoz-Murillo served as assistant vice chancellor of Advocacy & State Relations (ASR) for the California State University. During her nearly 10 years in the ASR Office, Muñoz-Murillo was known for her partnership work with students, faculty, and staff. She was the architect of several award-winning advocacy campaigns, including #standwithCSU and #chooseCSU. Muñoz-Murillo began her career with the CSU at the Sacramento State campus, where she served in multiple governmental relations capacities, including director of state and federal relations. Her early career began at the California School Boards Association and the State Senate, where she worked as an education consultant on K-12 and higher education legislation. Muñoz-Murillo has been a staunch supporter of Cal Poly Humboldt and in her role at ASR, she helped build support at the state level. In recent years, she advocated for the creation of the University's RN to BSN Nursing program and the state's historic $458 million investment in the University's transition to a polytechnic. 
 
An advocate for Tribal sovereignty, environmental sustainability, and Cal Poly Humboldt, Jason Ramos ('98, Kinesiology, '14 M.S. Kinesiology) is helping shape the future of the North Coast and California. Ramos is a Tribal council member for Blue Lake Rancheria (BLR), liaison for matters of education, energy, and economic development, and Tribal Administrator. He has been committed to advancing tribal strategy, policy, programs, and investments in infrastructure and economic enterprise in collaboration with other Tribes, and federal, state, and local governments and agencies. He has also strengthened Tribal sovereignty, climate resilience efforts, and economic development in the region. 
Thanks to the work of Ramos and others, the BLR has earned multiple national awards, including the 2015-2016 "Climate Action Champion" designation from the Obama Administration and U.S. Department of Energy. He plays an invaluable role at the University as well. He is a previous member of   the HSU Foundation Board of Directors and the Alumni Association Board of Directors.  Ramos also supports University research through his Jason M. Ramos Endowment for Kinesiology Research, which funds equipment and research for the Biomechanics and Human Performance labs on campus,  and stewardship of the Blue Lake Rancheria Fellowship for Clean Energy Studies at the Schatz Energy Research Center, which funds leading edge research in clean energy and related policy and infrastructure. 
Gary Rynearson ('78, Forest Production Management), a Forestry instructor who has been recognized for his contributions to California forestry through state and forestry organizations, is a second-generation forester and native of Humboldt County. His work in public and private sectors has left a tremendous impact locally, in the state, and on Cal Poly Humboldt students. He was the president of the Natural Resources Management Corporation for 20 years. During that time, Rynearson managed non-industrial timberland owners, worked with Tribal organizations and became active in professional and governmental organizations that focus on conservation. Appointed to the Board of Forestry and Fire Protection by governors Gray Davis and Arnold Schwarzenegger, he contributed to the development of emergency fuel hazard reduction rules and watercourse protection measures benefitting salmonids. 
As a manager for the Green Diamond Resource Company, he helped pass legislation that allowed for thinning of North Coast forests and supported the reintroduction of the California condor in the lower Klamath-Redwood Creek area. He also helped develop permits that provided protection for water quality, the northern spotted owl, coho salmon, and Humboldt marten. Rynearson leaves a legacy at the University. Bringing decades of experience into the classroom, he uses real-world examples to provide insight into the world of natural resources and forestry, and has directly impacted the development of an entire generation of forestry graduates.