Humboldt State University's Native American Studies (NAS) program provides an essential Indigenous voice on campus. Due to the advocacy of early Indigenous students and faculty at HSU, the program, which turned 25 this year, is stronger than ever as it continues to refine HSU's role as a leader in Native American scholarship.
Image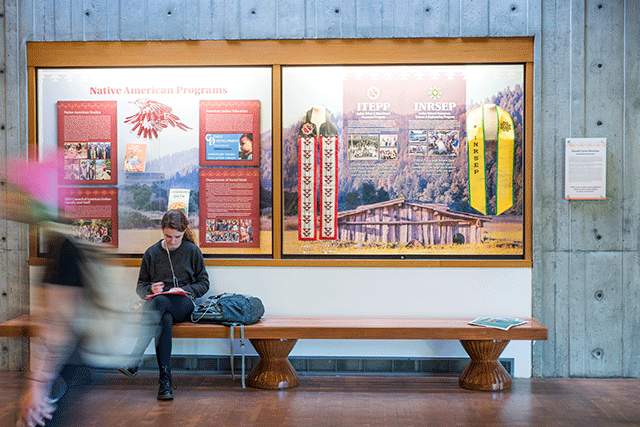 Since 1995, HSU's nationally renowned program has provided Native and non-Native students a foundation in Native American knowledge systems and issues from a distinctly Tribal perspective. Because HSU is located on Wiyot land and surrounded by 13 Native Tribes, students in other disciplines have opportunities to collaborate with and learn from local tribes.
>>Read more: Klamath River as Teacher, Mentor and Community Advocate (Humboldt Magazine) | ITEPP Celebrates 50 Years of Supporting Native Students (NOW) | Revival of the Wailaki Language (Humboldt Magazine)<<
One of HSU's place-based learning programs, called the Klamath Connection, is a powerful example of that partnership. Klamath Connection is a science program for freshmen in certain majors and relies on NAS faculty to support curriculum and field trips to the Klamath River, where students learn about traditional ecological knowledge (commonly known as TEK), salmon, and watershed management.
NAS and the Department of Forestry & Wildland Resources also teamed up to create a new Tribal Forestry concentration, among the first of its kind in the nation. The Forestry department and NAS worked together to reach out to Tribal communities for their input and to design the curriculum.
With a background in law and wildlife management and a love of poetry, Professor Marlon Sherman has taught a wide range of courses in NAS. Reflecting on the program, Sherman (Oglala Lakota), who was raised on the Pine Ridge Reservation in North Dakota, wrote: "Some very good and generous people have stepped up to mentor and help me during my time teaching in Native American Studies at HSU. If not for these skilled, talented and passionate people, NAS might not exist today and I might not be a full professor on the edge of retirement. All of these people have taught me the true meaning of service, not because they talk about it, but because they actively and cheerfully live it."
Image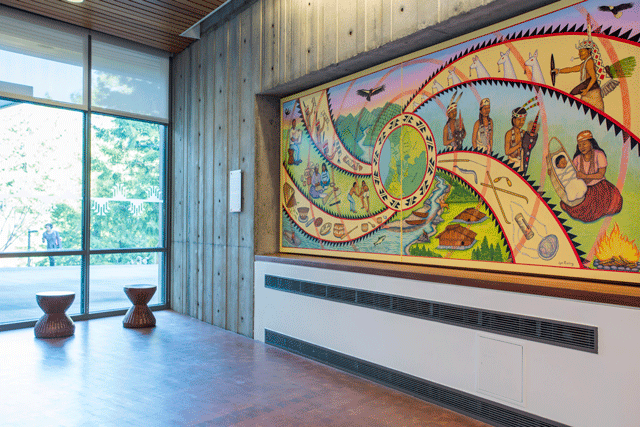 Kaitlin Reed (Yurok/Hupa) joined the HSU faculty in 2019 after completing her Ph.D. in Native American Studies at UC Davis. During her undergraduate education at Vassar, Reed was dismayed to find Indigenous perspectives largely absent in the college's Geography department. Interested in looking at how people relate to land, Reed found that the narrative offered by mainstream academia was based on exploitation and commodification. Meanwhile, TEK, a growing and respected field, were offered as mere "tidbits."
"We've been engrained to think that Western science holds a monopoly on scientific truth," explains Reed. "My job is to recalibrate my student's perspective."
In her introductory NAS courses at HSU, Reed prioritizes Indigenous perspectives on history and ecology to help Native students "question their own role in the project of settler-colonialism." Now more than ever, Reed believes that educators and policy leaders should turn to TEK for guidance in the climate crisis era.
"Indigenous knowledge cannot be treated as a backup system for climate change," says Reed. Due to HSU's priority on integrating Indigenous perspectives across all disciplines, Reed believes that the University is poised to become a global leader for climate change research.
Reed has a laser-focus on supporting HSU's Native students. "It was important for me to go into academia and teach because so many Native students fall between the cracks," says Reed.
Reed gives credit to her own mentors, particularly a Native professor of literature who encouraged Reed to keep pursuing her education. "My experience speaks to the type of mentorship that Native faculty provide to students," says Reed. "It's Native people looking out for Native people."
Professor Cutcha Risling Baldy (Hupa/Yurok/Karuk) voices the same approach. "We give individualized attention to each student. It's like family," says Baldy, who was born and raised in Humboldt County. "We're often working with first-generation students who need support and resources to get through college," she adds.
Baldy personally knows how the HSU community can impact Native students. Growing up in Arcata, Baldy's mother was the longtime director of HSU's Indian Tribal and Education Personnel Program (ITEPP). Baldy remembers getting off the bus at Library Circle after school and playing Oregon Trail with the HSU students at ITEPP.
"I dreamed of learning how to use the card catalog and checking out my own books at the library," says Baldy. "HSU was my home away from home and my inspiration for going to college."
After high school, Baldy attended Stanford University. "I received a lot of messaging that I didn't belong there," remembers Baldy. After earning her M.F.A. in Creative Writing at San Diego State University and her Ph.D. in Native American Studies at UC Davis, her return to join the faculty at HSU felt like a homecoming.
"It's important for me to tell my students, 'You can do this too,'" says Baldy. In her research on Indigenous feminism and decolonization, Baldy loves bringing along undergraduates so they can watch applied academics—and an Indigenous female Ph.D.—at work.
"Students are really starting to see how NAS can help them in a variety of fields," explains Baldy. "It gives them a decolonial worldview of politics and land use that other people don't have yet."
Image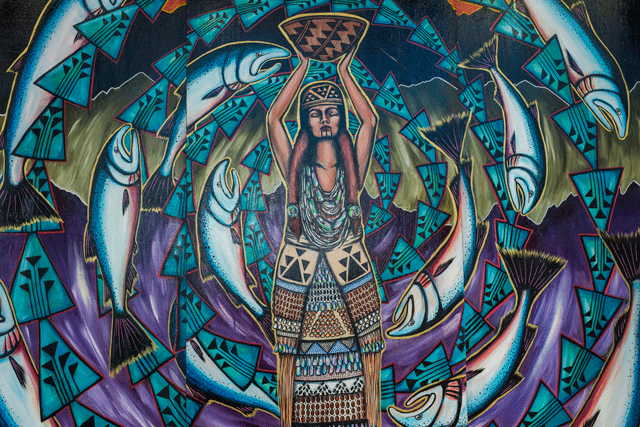 Like Baldy, Professor Kayla Begay (Hupa) was also born in Humboldt County and brought up in the HSU community. Attending Hoopa Elementary as a kid, Begay remembers being exposed to the Hupa language at school and from her elder relatives. As elders passed, there were fewer opportunities to learn local languages from elder speakers. By the time she reached high school, Begay knew she wanted to study linguistics. After completing her B.A. from Stanford and Ph.D. at UC Berkeley, Begay returned to Humboldt to join the NAS department in 2016.
"In order to understand language, you have to understand people's relationship to land and to one another," says Begay, who teaches classes such as Native Languages of North America at HSU at HSU and is working to introduce more Wiyot curriculum. "I always learned that it's good manners to learn something about the language of the land you're in," says Begay.
If Native American Studies degree programs are a rarity, Begay's specialization in Indigenous language reclamation truly sets HSU apart. Begay explains that in Northern California alone, there are five different language families indigenous to the region. Her research focuses on Dene languages, including Hupa, whose speakers are found in Alaska, Western Canada, and the Pacific Northwest. "We live in one of the most diversified language regions in the world," says Begay.
Many of Begay's students have a desire to learn the languages of their ancestors. "Students bring a lot of information to the classroom from their own cultures. It takes someone familiar to encourage their growth in language tied to culture," explains Begay.
Like her colleagues, Begay believes that HSU is uniquely situated to build sovereignty in Native American Studies with the current esteemed group of Indigenous faculty.
"We're tied to specific places, our culture, and to California," says Begay. "Students want culture and community to be connected to what they're learning."
The small-but-mighty Native American Studies program looks forward to the next 25 years of heritage and discourse. As Reed describes, her role as a professor is to "teach students that Native people still exist."
In Humboldt County, local tribes are both active and sovereign in watershed management, land use, conservation, and cultural activities. But across the nation, education that preserves the legacy of California's Indigenous peoples is woefully unrepresented. As Humboldt State continues to strengthen its capacity in Indigenous knowledge, the Native American Studies department is ready for a new era of leadership and revitalization.