Last Monday, instead of taking a day off in recognition of the Martin Luther King Jr. holiday, Humboldt State staff and faculty donated their time and energy to the University's third annual MLK Day of Service. Twenty-two students and 18 faculty and staff members spent the day at multiple community and campus sites, working together to beautify the community and honor the legacy of Dr. King.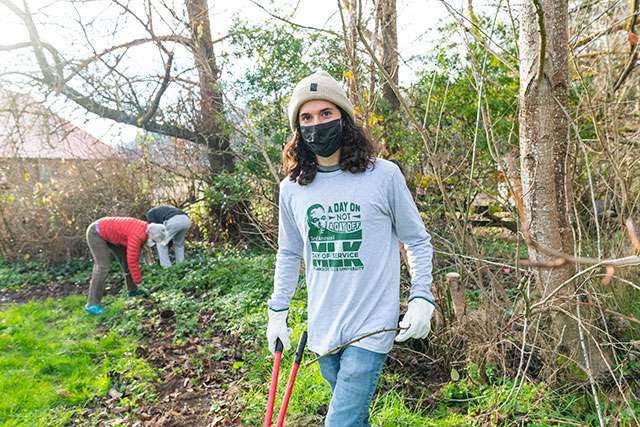 "Our "A Day On, Not a Day Off," event was a great success," says Melea Smith, Youth Educational Services (Y.E.S.) coordinator. "We had an enthusiastic group of volunteers who safely engaged in campus and community projects. They returned to campus with big smiles on their faces––energized and uplifted by the inspiration they felt during HSU's MLK Day of Service."
The community service projects included working in the native herb garden and tending edible garden plots at the Jefferson Community Center in Eureka; clearing invasive plants to enhance wetland restoration at Freshwater Farms Reserve, a Northcoast Regional Land Trust property; organizing and cleaning supplies at the Boys and Girls Club of the Redwoods Eureka Teen Center for the first day of school with HSU's Oh SNAP! food pantry; and knitting hats for seniors, oncology patients, and individuals experiencing homelessness with the Y.E.S. Knitting Project.
"It was super rewarding being able to connect with peers in a face-to-face setting and share the significance of the holiday while giving back and building community with one another," explains sophomore Autumn Cry-Mark, a Social Work major.
To learn more about Y.E.S., visit yes.humboldt.edu.