HSU presents "Peter and the Starcatcher," the Tony Award-winning play that upends the century-old story of how a miserable orphan boy becomes the legendary Peter Pan. This production opens on Friday, Oct. 21, in the Van Duzer Theatre and is the first fully staged production of the 2016-17 Season at HSU.
Image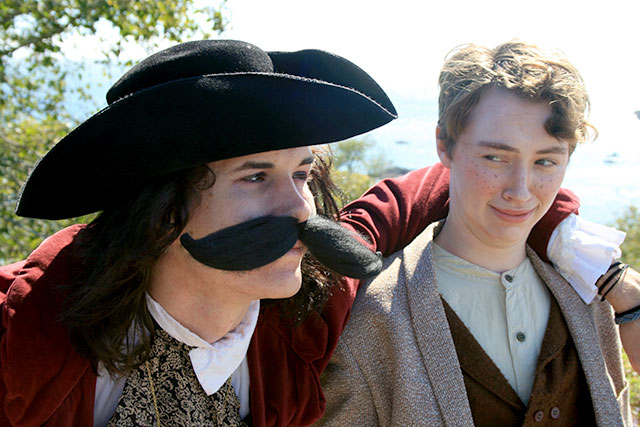 This relatively new work is based on the 2006 novel (Peter and the Starcatchers) by Dave Barry and Ridley Pearson and is adapted for the stage by Rick Elice. The play, which includes musical numbers written by Wayne Barker, provides a backstory for the character Peter Pan and serves as an imagined prequel to J.M. Barrie's "Peter Pan; or, the Boy Who Wouldn't Grow Up."
As an audience, we learn just how an unnamed orphan becomes Peter Pan, how he ends up in a place called Neverland, how Captain Hook lost his hand, how a big crocodile started to tick from inside and even how Tinkerbell originated. But there is much more to this production.
Director Rae Robison (Associate Professor of Theatre Arts) saw a bit of the show staged during the Tony Awards on television and was intrigued. "After reading the book the play is based on," Robison explains, "I was hooked. As a director, I'm always drawn to new plays which allow you to share a work with an audience that will probably be experiencing it for the first time."
The play has been described as a children's story for adults but has proven very appealing to kids as well. "This production is suitable for ages two to two hundred," Robison continues. "This play is about friendship, family, and finding your place in the world. Making those connections that complete you and discovering what really matters. Sure there may be pirates, and adventure, alligators, and danger, and even love along the way—but that's what makes life so exciting."
'Peter and the Starcatcher' premiered at the La Jolla Playhouse in 2009, opened off-Broadway in 2011, opened on Broadway in 2012 and returned to off-Broadway in 2013 where it closed in 2014. A national tour concluded last year. The play has earned numerous awards including five Tony Awards as well as Drama Desk and Obie Awards. It was also named Favorite Play and Best Play by the Broadway Audience Choice Awards.
Featuring thirteen actors playing more than 100 unforgettable characters, the play boasts terrific performers, hilarious mermaids, beautiful spectacle, and even starstuff. The production uses creative stagecraft and the limitless possibilities of imagination to bring the story to life. As the character Molly says in the play, "To have faith is to have wings."
Don't miss this North Coast premiere intended for all ages. The production opens Oct. 21 and continues Oct. 22, 27, 28, and 29 in the Van Duzer Theater on the HSU campus. The show begins at 7:30 p.m. There are two matinee performances at 2:00 p.m. on Sunday, Oct. 23 and Sunday, Oct. 30. General admission is $10. Student and Seniors are $8. Parking is free on weekends. Tickets available at the HSU Ticket Office, 707-826-3928.
For more information, call 707-826-3566.