HSU's Reese Bullen Gallery presents African Masks from the James Gaasch Collection on exhibit Feb. 10 through March 10. An opening reception will be held on Wednesday, Feb. 10 from 4 to 6 p.m., with a brief welcome and presentation about the collection at 5 p.m. The public is invited to attend this free event.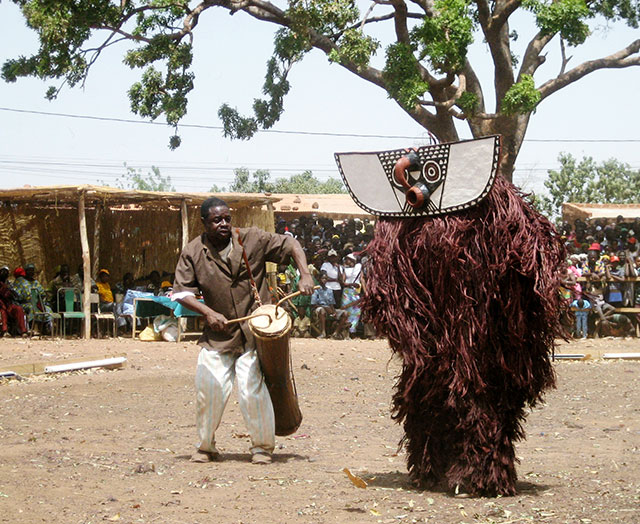 The exhibit features masks in HSU Emeritus Professor James Gaasch's private collection from the countries of Burkina Faso, Mali, and Côte d'Ivoire. "This exhibition encompasses some of the time I have lived, taught and walked in West Africa. It presents faces and voices of Mali and Burkina Faso; the voices of mask carvers and artists who preserve their ancient traditions in wood," notes Gaasch. Accompanying the masks on exhibit are photographs and text, which provide context for understanding the artists, materials, and tools utilized, dancers wearing the masks and celebrations surrounding their use. In emphasizing the importance of bringing this exhibit to our area, Dr. Rosamel S. Benavides-Garb, Chair of the Department of World Languages and Cultures states, "This is the very first West African mask exhibition presented on Humboldt's campus and places Africa, a most neglected region, in the intellectual and social map of our university."
In conjunction with the exhibit, on Feb. 10-12, HSU's Department of World Languages and Cultures in partnership with the Departments of Art, Anthropology, and Critical Race, Gender & Sexuality Studies are offering a seminar course exploring Africa's past, present, and future: Masks and Cultures of West Africa. This seminar provides students with an opportunity to learn about African worldview, explore Africa's past, present, and future and engage in learning more about the African masks through discussion and interaction with the exhibit.
Funding and support for African Masks from the James Gaasch Collection and related events have been provided by the College of Arts, Humanities and Social Sciences, HSU Instructionally Related Activities, HSU Office of Diversity and Inclusion, the HSU Diversity Program Funding Committee, and HSU African American Center for Academic Excellence.
The Reese Bullen Gallery is located inside HSU's Art building at the intersection of B Street and Laurel Street in Arcata. The gallery is open Monday, Tuesday, and Wednesday between the hours of 12-5 p.m., Thursday 12-7 p.m., Friday 12-5 p.m., and Saturday 10-2 p.m. Admission is free. For more information about the gallery, please contact the gallery office at (707) 826-5814 or rbg@humboldt.edu. For information about enrolling in the seminar, please contact Dr. Joseph Diémé at jcd34@humboldt.edu. For parking information, please visit humboldt.edu/parking.