The Goudi'ni Native American Art Gallery at Humboldt State University invites the community to view its latest exhibit, "Cultural Indifferences: The Art of Carl Avery." The exhibit opens with a reception for the artist on Thursday, April 9 from 5 to 7 p.m. and runs from April 9 through May 7.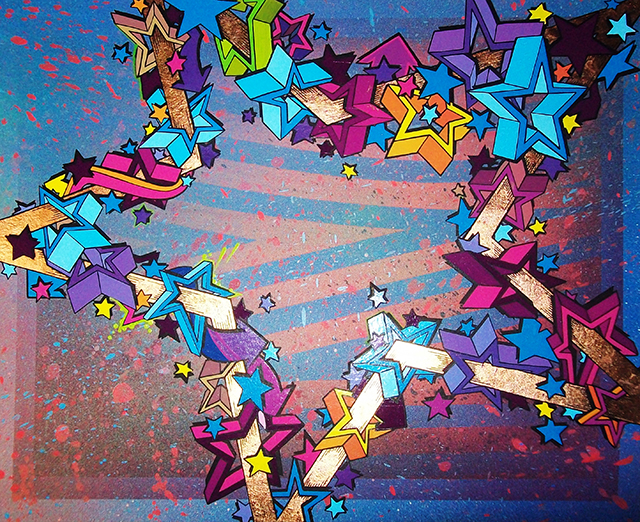 Carl Avery, a Yurok tribal member, is best known for his custom airbrush and pinstriping on motorcycles, cars, helmets, murals, and most anything he can get his hands on. He is the owner and operator of Carl Avery Studios located in Redding, California. His most recognizable work is featured on the 2013 "Carl Avery Edition" SATA spray gun, which was selected as design of the year in an international art contest and produced with a limited product run.
"I experiment with the beauty of individual shapes and colors," Avery says of his work. "The shapes are building blocks and each one is needed to give an overall effect."
The Goudi'ni Gallery is pleased to present an exhibit featuring his drawings, paintings, illustrations and detailed graffiti pieces, which are created on the more traditional art surfaces of canvas, wood panel and paper. For these pieces, Avery brings not only airbrushing and pinstriping to the finished art but adds paint pens, spray paint and sculpture mediums.
"Spray paint and acrylic paint set my backgrounds in chaos, giving spatters and bursts of color. Then I use enamels to give dimension to the works with a glossy finish," Avery explains. "These pieces are influenced by walls and murals on the streets of cities I have visited, with loud abrupt color.
The Goudi'ni Gallery is located on the ground floor of Humboldt State University's Behavioral & Social Sciences building, near Union and 17th Streets in Arcata. The gallery is open Monday through Wednesday 12-5 p.m., Thursday 12-7 p.m., Friday 12-5 p.m., and Saturday 10-2 p.m. Admission is free. For more information, contact the gallery office at (707) 826-5814 or rbg@humbold.edu.