Jon Dohlin ('92, Biology) remembers the moment Hurricane Sandy struck the New York Aquarium vividly. Shortly before 8 p.m., an 11-foot storm surge hit the Coney Island complex, engulfing the entire building with salt water.
"We had about 3 to 4 feet of water throughout the entire aquarium and 10 to 15 feet in the basement," recalls Dohlin, the museum's director since 2008. "It took about 3 to 4 days before we could pump it all out."
Although the 14-acre complex remained structurally intact, the entire aquarium—and the pumps that support its 12,000 marine animals—were extensively damaged.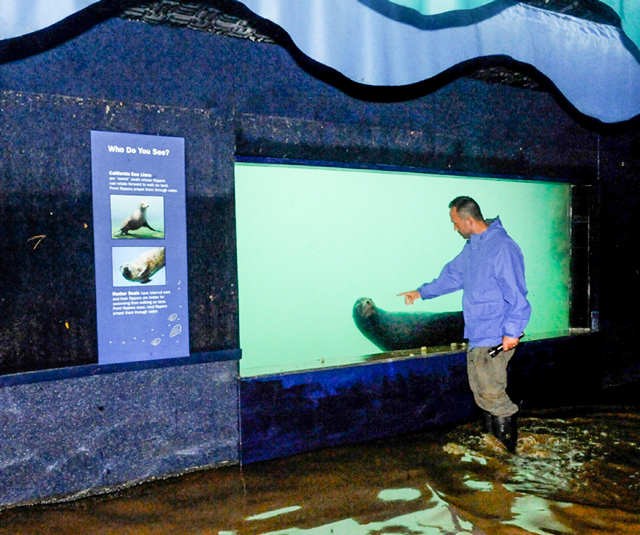 In the days immediately following the disaster, Dohlin and his staff worked around the clock to ensure that the aquarium's fish and other marine life were healthy and safe. Of particular concern was Mitik, a baby walrus the aquarium had recently adopted from Alaska. "We had a little bit of a scare with Mitik," Dohlin says, "but luckily he was swimming around like it was the most fun he'd ever had. He was happy as a clam at high tide."
When all was said and done, Dohlin and his staff managed to retain 90 percent of the aquarium's marine animals—an impressive feat considering the magnitude of the disaster. Now comes the difficult task of working with consultants and engineers to coordinate the cleanup, Dohlin says.
To date, the overall damage has been assessed at $70 million—a cost that will eventually be reimbursed by FEMA. "It's been costly and stressful, but fortunately, I think we're going to be o.k.," Dohlin says.
A partial reopening is scheduled for the summer of 2013. Founded in 1957, the NY aquarium is a Coney Island landmark, attracting thousands of visitors a year. To help, visit nyaquarium.com.