To raise awareness about otters and support otter research, the North Coast Otters Public Art Initiative is hosting an in-person silent auction of 32 of the now-famous otter sculptures decorated by local artists on Saturday, Sept. 11, from noon to 3 p.m., followed by an online auction of the remaining 70+ otters the following week. Additionally, a public viewing of all 100+ otter sculptures will be held Friday, Sept. 10, from noon to 7 p.m.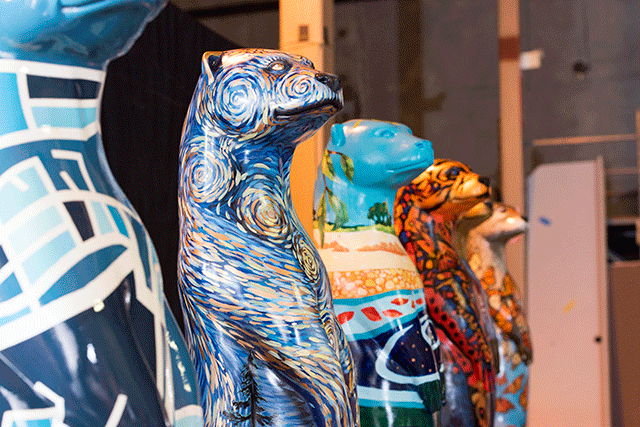 A commemorative auction catalog will be available for $15 at the HSU Cashier's Office in the Student Business Services (SBS) Building and The Ink People Center for the Arts located at 627 3rd Street, Eureka. Proceeds from the catalog sales and the auction will go toward additional river otter studies and student internships. (See auction details below.)
Led by Jeff Black, a Wildlife professor at Humboldt State University, the North Coast otters project was created with the aim to celebrate life, water, and otters, support local businesses, and raise funds for student projects. The project also included a "treasure hunt" of the otter sculptures, which were placed throughout Humboldt, Del Norte, Mendocino, Trinity, and Siskiyou counties this summer.
"I hope everyone who interacted with this initiative has learned more about art, nature, and science, and that our community has rallied in celebration of artists, clean water, and wonderful otters!" says Black. "This project provided an accessible opportunity to explore our connection with nature through engagement with this charismatic critter."
In addition to raising awareness about wildlife conservation and celebrating the arts, the North Coast Otters project encourages community members to participate in the ongoing "citizen science" river otter records study by consistently reporting when and where wild river otters are observed throughout the North Coast region.
Since 1999, HSU students have been collecting otter records from citizen volunteers as a means of tracking the quality of North Coast habitats. River otters, seen at all times of day in our area, have captured the attention of thousands.
"The river otter sits at the top of the water-based food chain. When their numbers struggle, we know that there's something wrong in the environment," explains Black. "There are 13 types of otters in the world,12 of which are listed as endangered or near-threatened. Our river otters in Northern California are making a comeback."
Pre-Auction Public Viewing:
Friday, Sept. 10, from noon to 7 p.m. at the Humboldt Bay Aquatic Center, 921 Waterfront Dr., Eureka. Free admission.
Live Silent Auction:
More than two dozen special "Humboldt Otters" have been selected for the in-person silent auction Saturday, Sept.11, from noon to 3 p.m., outside at the Clarke Plaza, across the street from the Clarke Museum, 240 E Street, Eureka. Admission is free, but capacity is limited, so please come expecting to bid. Guests can register online and registration forms will also be available on the day of the auction. Bids may be executed in person, via email prior to the auction closing, or by phone during the auction.
Bidding:
The starting price for each of the Humboldt Otters will be the highest online bid submitted by 4 p.m. Friday, Sept. 10. Prior to the Sept. 11 event, otter sculptures may be purchased outright by "adopting" an otter at $5,000 each (except for "Anahita the Mosaic Otter'' by Jennifer Amidi), effectively removing the otter from the in-person silent auction. Prospective buyers may participate in the in-person silent auction by submitting absentee "best and final" bids by emailing giving@humboldt.edu.
Online Silent Auction:
The remaining 70+ otters will be auctioned online, with a public viewing available at the at the Humboldt Bay Aquatic Center, 921 Waterfront Dr., Eureka, Monday-Wednesday, September 13-15, from noon – 7 p.m. Final bids for the remaining otters must be submitted online by Wednesday, Sept. 15 at 6 p.m.