Humboldt State's Biology Core Facility has purchased a stereo microscope with fluorescence illumination, an advanced instrument that will better support student and faculty research in the biological sciences.
The microscope was purchased with alumni gifts through the Humboldt Loyalty Fund, which supports student scholarships, research, academic programs and other special projects.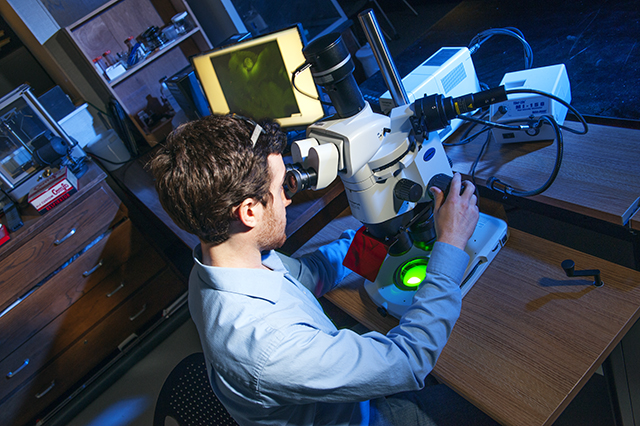 The new stereo microscope enhances student and faculty research by providing improved optics and a wider field of view than a conventional compound microscope. A built-in camera and fluorescence illumination increase image contrast and resolution.
Numerous disciplines have already benefited from the technology. Biological Sciences faculty member Elizabeth Whitchurch and her students are using the microscope's fluorescence illumination to examine the neuroanatomy of rainbow and cutthroat trout. By injecting the fish with fluorescent dye, they can observe the location of neurons in the fish's brains.
Nick Ponvert ('14, Marine Biology) plans to turn his research on trout neuroanatomy into his PhD research. "It's a topic that particularly interests me and one that I hope to continue next year," he said.
The Olympus SZX16 supports the university's commitment to improving student learning and success. For more on the latest technology at HSU, including the university's new 3-D printer and scanner, visit the BioCore.
For more information on the stereo microscope, visit Olympus.