Jacob Bloom, a Communication major, is the new Associated Student president after winning 55 percent of a run-off vote held May 1 and 2. Jennie Rose Saunders, an Environmental Policy major, is administrative vice president after winning 53 percent of the vote, and Juan Diaz-Infante, also an Environmental Policy major, is student affairs vice president winning a 60 percent majority.
Image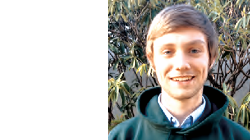 Full election results are available at http://humboldt.edu/associatedstudents/.
A recognized non-profit corporation, Associated Students is the official voice through which students express their opinions and engage in campus governance. Every year AS provides funding and leadership for more than 20 campus programs, including the Campus Center for Appropriate Technology, the Associated Students concert series and the California State Student Association.