In Zurite, Peru, 1.3 kilometers of irrigation canals now provide fresh water to the local community thanks to a Humboldt State student-led water development project.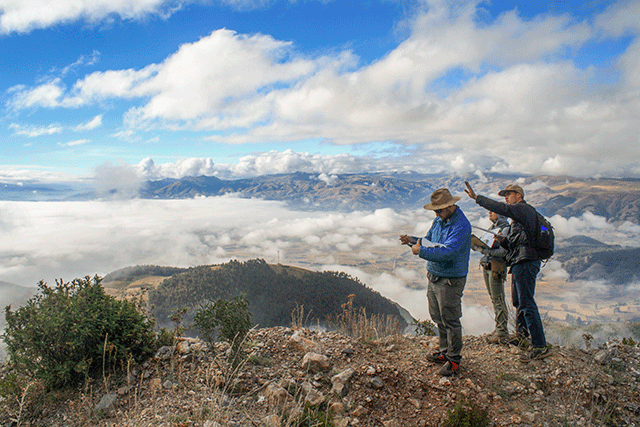 Spanning over two years, the multidisciplinary project, Bonanza en los Andes, was led by Geology Professor Jasper Oshun, Environmental Resources Engineering Professor Margaret Lang, and Kristina Keating of Rutgers University-Newark, in collaboration with HSU and Peruvian students. With the construction of the kilometers of irrigation canals, 100 families in Zurite now have access to increased food production and prosperity. The project was completed in March 2020 with the help of a $100,000 grant from Geoscientists Without Borders that was administered by HSU's Sponsored Programs Foundation.
Twenty HSU graduate and undergraduate students worked both on-site and behind the scenes of the project. Before beginning construction on the canals, students helped survey the watershed, flying drones to take measurements, drilling into the earth with augers, and setting seismic and resistivity lines to peer inside the earth in search of water.
Two Film students traveled to Zurite and shot hundreds of hours of footage for a short video about Bonanza en los Andes. And recent HSU graduate Yojana Miraya Oscco ('18, Environment & Community), who is from Peru, lent her cultural knowledge and native Quechua translations to the project.
"Yojana was really our ambassador to the community," says Oshun. "She also modeled the importance of cultural knowledge to scientific research, a valuable lesson for our students."
In Zurite, HSU students lodged with local host families in adobe houses, eating communal meals made from Peruvian foods, and doing field work at nearly 14,000 feet elevation.
From start to finish, Bonanza en los Andes depended heavily on collaboration between the scientists, students, and the community.
Oshun has traveled to Peru eight times, staying with the same host family that he met as a student volunteer in 2003. After his first trip, Oshun changed his major to Geology and co-founded his own global exchange program, Global Student Embassy, with his brother in 2008. Looking back on the experience, he owes his career in natural sciences to the geomorphic landscape and welcoming community of Zurite.
"I'm interested in linkages between geology, vegetation, and water, and the effects of human activities on water resources," says Oshun.
Applying this lens in Zurite, Oshun worked closely with his master's advisee and graduate of the Global Student Embassy, Wyeth Wunderlich, to understand how human manipulations might increase the supply of water.
"Just like in California, there's a wet and a dry season in Peru," explains Oshun. "In order to irrigate crops, the landscape needs to retain water through the dry season. Sometimes, it needs help."
By constructing canals, the Bonanza en los Andes project captures rainfall to meet the immediate needs of the agrarian community. But in his graduate research, Wunderlich studies how natural peat bogs, known as bofedales, might be a better tool than anything engineers can design.
"They're like giant sponges that release water into streams to sustain flow in the dry season," explains Oshun. Scientists looking for watershed management solutions in the era of climate change consider bofedales a possible model to replicate. Further research is critical for a post-glacier Peru, explains Oshun.
With the most recent funding cycle for Bonanza en los Andes complete, Oshun and his colleagues are in close communication with collaborators in Zurite and planning the next trip to Zurite, when funding and safety allows.
"We hope to increase the number of Peruvian students working on the project, foster cross cultural collaboration between American and Peruvian scientists, and create more pathways for international students to earn graduate degrees from HSU," says Oshun. "Having a cultural perspective, one that sees the value of both natural and social sciences is so critical."