Cal Poly Humboldt will become the 40th program to offer women's triathlon at the varsity level. Humboldt will field a team starting in the 2022-23 athletic season.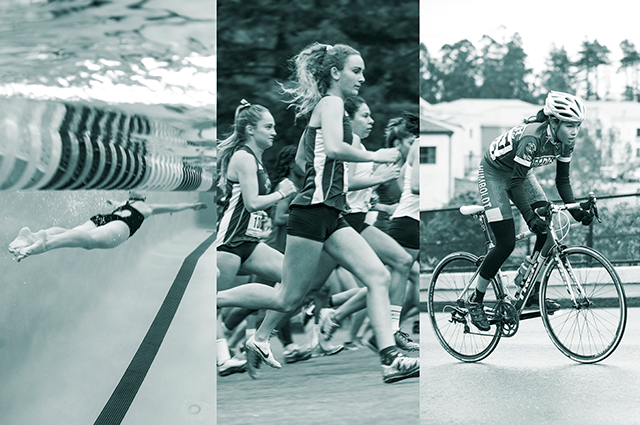 Comments like 'transformational', 'exciting' and 'bold' have been used frequently over the past week at Cal Poly Humboldt.
And now there's even more reason for optimism in the university's bright future. Cal Poly Humboldt and USA Triathlon announced today the school will become the 40th program to offer women's triathlon at the varsity level. Humboldt will field a team starting in the 2022-23 athletic season.
The commitment by Humboldt to become the 40th school is an important milestone in triathlon's journey to becoming an NCAA Championship sport. Deemed an NCAA Emerging Sport for Women in 2014, triathlon has now met the 10-year window to demonstrate sustainability and success at the NCAA varsity level. Triathlon has a few more steps to take on its way to being fully managed by the NCAA as a championship event, including committee, council, divisional and budget approvals.
"Cal Poly Humboldt is excited to welcome Triathlon to our campus as the 12th NCAA varsity sport," said Cooper Jones, Executive Director of Intercollegiate Athletics & Campus Recreation. "We believe Triathlon will be very successful in the near future. I look forward to growing the sport both regionally and nationally."
Humboldt's addition of women's triathlon was made possible through a grant from the USA Triathlon Foundation as well as a donation from the IRONMAN Foundation. The USA Triathlon Foundation Women's Emerging Sport Grant is distributed to select NCAA membership institutions to develop, implement and sustain women's triathlon programs at the varsity level.
"This is a monumental moment for not only Cal Poly Humboldt and the sport of triathlon, but also for women's sports," said Rocky Harris, USA Triathlon CEO. "It's fitting we've hit this milestone on the 50th anniversary of Title IX as this sends a resounding message across the country that women's sports are thriving."
Humboldt becomes the 17th Division II institution in the country to add women's triathlon as a varsity sport and the second in California, joining the University of San Francisco.
"Getting to this point has been a 13-year process with contributions from so many," said Tim Yount, USA Triathlon Chief Sport Development Officer. "Throughout this process Cal Poly Humboldt has shown their dedication to not only supporting a triathlon program but also investing in its continued success."
Triathlon was approved in January 2014 as the next Emerging Sport for Women for NCAA Division I, II and III institutions. Women's Triathlon is a fall sport, and the varsity season includes national qualifiers followed by the Women's Collegiate Triathlon National Championships. Races are sprint distance, featuring an open water 750-meter swim, draft legal 20-kilometer cycling and a 5K run.
"The addition of new varsity sports to Humboldt is just one part of a visionary plan that our president, Dr. Tom Jackson, Jr., has for the future of our campus," added Jones. "The ability to add new sports like Triathlon will bring national—and even international—recognition and awareness to our growing Cal Poly Humboldt brand."
"Cal Poly Humboldt is grateful to Rocky Harris, Gabe Cagwin, Tim Yount and the entire team at USA Triathlon," stated Jones. "The professionalism and support Humboldt has received throughout this process has been nothing short of amazing."
About Cal Poly Humboldt
California State Polytechnic University, Humboldt (or Cal Poly Humboldt), is one of just three polytechnic universities in the California State University system and is the northernmost campus of the 23-school California State University (CSU) system. The main campus, located in coastal Arcata and situated hillside at the edge of the redwood forest, has commanding views overlooking Humboldt Bay and the Pacific Ocean.
The Cal Poly Humboldt Lumberjacks participate at the NCAA Division II level and are members of the California Collegiate Athletic Association (CCAA), as well as an affiliated member of the Great Northwest Athletic Conference (GNAC) in rowing. Humboldt currently sponsors 12 intercollegiate sports programs — men's and women's soccer, basketball, cross country, and track & field as well as women's volleyball, softball, rowing and triathlon. In addition to NCAA Division II-sanctioned sports, Cal Poly Humboldt also supports over 15 club and intramurals sports programs.
Cal Poly Humboldt has won six (6) national championships; Cross Country (1980), Rowing (2012 and 2014) and Softball (1999 and 2008) and Track & Field (1926).
About USA Triathlon
USA Triathlon is proud to serve as the National Governing Body for triathlon, as well as duathlon, aquathlon, aquabike, winter triathlon, off-road triathlon, paratriathlon, and indoor and virtual multisport events in the United States. Founded in 1982, USA Triathlon sanctions more than 4,000 races and connects with more than 400,000 members each year, making it the largest multisport organization in the world. In addition to its work at the grassroots level with athletes, coaches, and race directors — as well as the USA Triathlon Foundation — USA Triathlon provides leadership and support to elite athletes competing at international events, including World Triathlon Championships, Pan American Games and the Olympic and Paralympic Games. USA Triathlon is a proud member of World Triathlon and the United States Olympic & Paralympic Committee (USOPC).