Image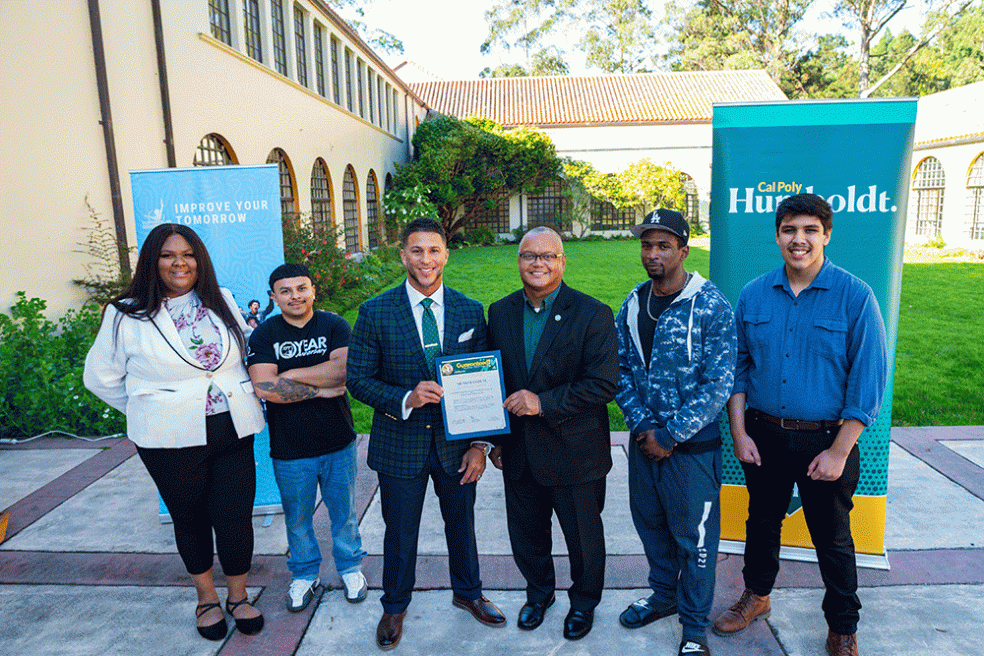 While universities across the nation look at California's higher education system for insight on increasing diversity after the recent affirmative action decision, Cal Poly Humboldt and nonprofit Improve Your Tomorrow (IYT) have put an innovative twist on a tested tool the University of California (UC) system has long used: Guaranteed Admissions.
The partnership between IYT and Cal Poly Humboldt establishes a guaranteed admissions pathway to the newly designated polytechnic institution, as well as the opportunity to increase diversity and innovation in STEM. 
IYT supports thousands of young men of color across Northern California with a 12-year mentorship program that begins in 7th grade and continues through high school and college. The partnership also offers admissions to IYT students who are in community college, addressing a critical achievement gap currently experienced most prominently by students of color in California. 
"Up until joining IYT, college seemed unclear to me, but traveling across the state to visit campuses helped me internalize the goal of not only becoming the first generation in my family to go to college but also pursuing a degree in Sociology with the hopes of making an impact on the next generation and helping them get to college," says Oscar Chavez, an IYT member and third-year Cal Poly Humboldt transfer student. "I chose Humboldt because, along with the natural beauty of the area, the outreach I received from the Sociology students embodied the community building I felt I needed to thrive during this time in my life."
On Thursday, Oct. 19, IYT and Cal Poly Humboldt held a signing ceremony to celebrate the partnership launch and the investment in the college-bound dreams of California's young men of color. The ceremony included CEO and co-founder of IYT and Humboldt alum Michael Lynch ('11, Business Administration), Cal Poly Humboldt President Tom Jackson Jr., and Humboldt students who are current members of IYT and participated in a pilot program. 
"My time at Cal Poly Humboldt, helping to run after-school sports programming, set the stage for a future I couldn't have anticipated, co-founding Improve Your Tomorrow," Lynch says. "Today, we're building a bridge that will provide this next generation of young men of color the same kind of life-changing opportunities and experiences that were available to me. Who knows what innovations or social impact will be made through the coming years thanks to this partnership." 
IYT provides support and academic advising to help its students complete California State University and UC eligibility requirements, such as the A-G courses. Students also have the opportunity to visit Cal Poly Humboldt and experience "college life" on the North Coast long before application season begins.
"Cal Poly Humboldt is dedicated to providing every possible support to students who aspire to pursue a four-year degree program," says Chrissy Holliday, Vice President for Enrollment Management & Student Success for Cal Poly Humboldt. "We understand that visiting campus can be a challenge for many students and their families, which is why we have made it a key component of our commitment to help them make informed decisions about pursuing their education at Humboldt. Our priority is to get these students to our campus so they can see it for themselves and assess whether it is the right place for them." 
With nearly 2,000 high school students currently enrolled in IYT and more than 12 college trips planned for this year, the IYT and Cal Poly Humboldt partnership is a shining example of how collective efforts can bridge the gap and create opportunities that were once out of reach. It's a reminder that through collaboration, innovation, and unwavering commitment, institutions and community organizations can build a brighter and more inclusive future for all. 
"We believe that providing a positive, meaningful educational experience at Cal Poly Humboldt begins before students get to Humboldt. We're excited about the collaboration with IYT and look forward to continuing to help students of color in the program achieve their college dreams at Cal Poly Humboldt," Jackson, Jr. says.