Image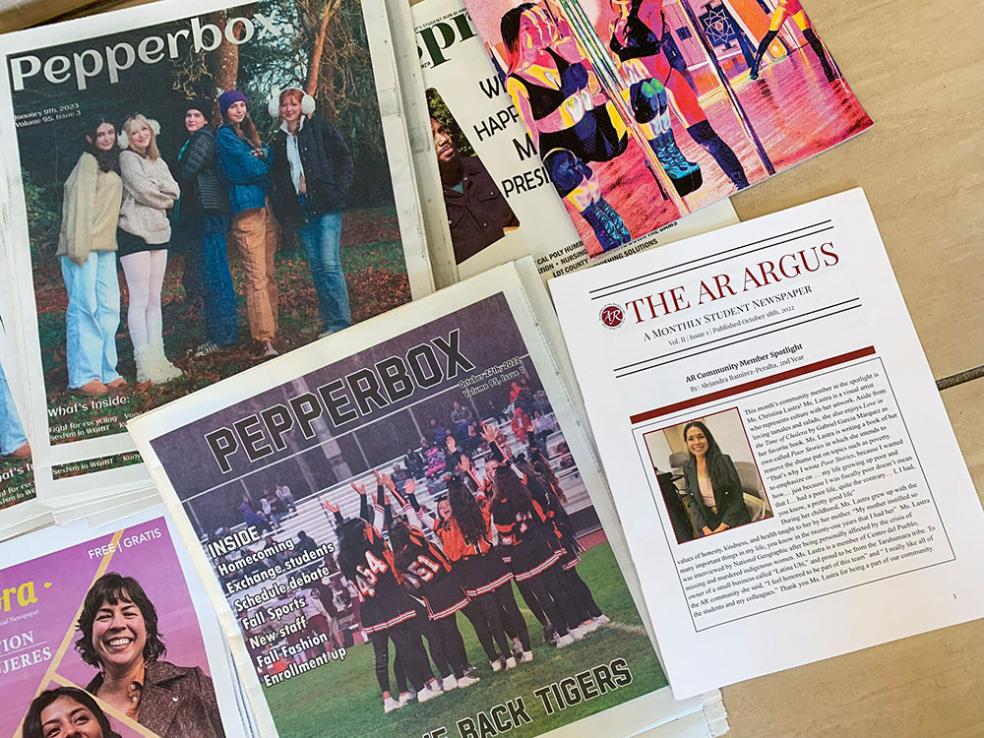 To celebrate and recognize excellence in journalism at local high schools, Cal Poly Humboldt hosted its Sixth Annual Media Day earlier this month.
High school students from four high schools practiced making media, learned about science reporting, considered investigative work, delved into coverage of transgender issues, and joked about parody news. The event included the 2023 Jackie Awards for high school media, with 32 awards given out. 
The award for Outstanding High School Newspaper was given to The Pepperbox at Arcata High School. Northcoast Preparatory Academy earned the Outstanding Yearbook award, judged by Cal Poly Humboldt Journalism Professor Kirby Moss. Students from the Swashbuckler and Humboldt Youth Op at Six Rivers Charter High School collected many awards, including Best Podcast. Students from the AR Argus at the Academy of the Redwoods won awards including Best Environmental Reporting and Best Headline.
This year, Cal Poly Humboldt's Journalism department partnered with Neil Chase, chief executive officer of CalMatters, Youth Journalism Initiative program leader Michael Lozano, Steve O'Donoghue, director at California Scholastic Journalism Initiative, Hank Sims of the Lost Coast Outpost, and Marcy Stech, director of Portfolio Communications for the Emerson Collective.
The Emerson Collective, founded by Laurene Powell Jobs, funds CalMatters' Youth Journalism Initiative. Representatives attended the event, meeting with advisers and local media stakeholders to discuss supporting scholastic journalism in Humboldt County. The organizations also covered catering costs for breakfast and boxed lunches.
"We are so grateful to CalMatters and the Emerson Collective for partnering with us to make this a rewarding day for students," says Cal Poly Humboldt Journalism Professor Deidre Pike, who organized the event. 
Workshop leaders included former North Coast Journal editor and co-founder of the Humboldt Journalism Project Carrie Peyton Dahlberg; Ollie Hancock, former editor of The Lumberjack (Cal Poly Humboldt's student newspaper) and a New York Times stringer; Marcy Burstiner, Cal Poly Humboldt Journalism professor and author of Investigative Reporting: From Premise to Publication; and Sophia Escudero, a former editor of The Lumberjack's parody publication, the Dumberjack. 
CalMatters' Lozano led a video workshop for which one student video will win a $50 prize.
"The great thing about working with the youth journalists of today is that they have such sensitivity and awareness for diverse communities," Lozano says. "I have so much hope that we will have more and more diverse representation in our media storytelling."
High school students were also given tours of the Cal Poly Humboldt's newsroom for the Lumberjack and El Leñador, the student-run Spanish-English newspaper, and KRFH-FM, the student-run radio station.
"Students are keeping the dream of feisty, accurate, and awesome news media alive," Pike says. "What an inspiring day."
Arcata High journalism adviser Danielle Witten says she appreciates the event, which infuses her students with journalistic enthusiasm.
"They get to meet each other and gain new skills," Witten says. "There is a strong sense of excitement, and they come back buzzing with ideas! It's so important to our class."