Image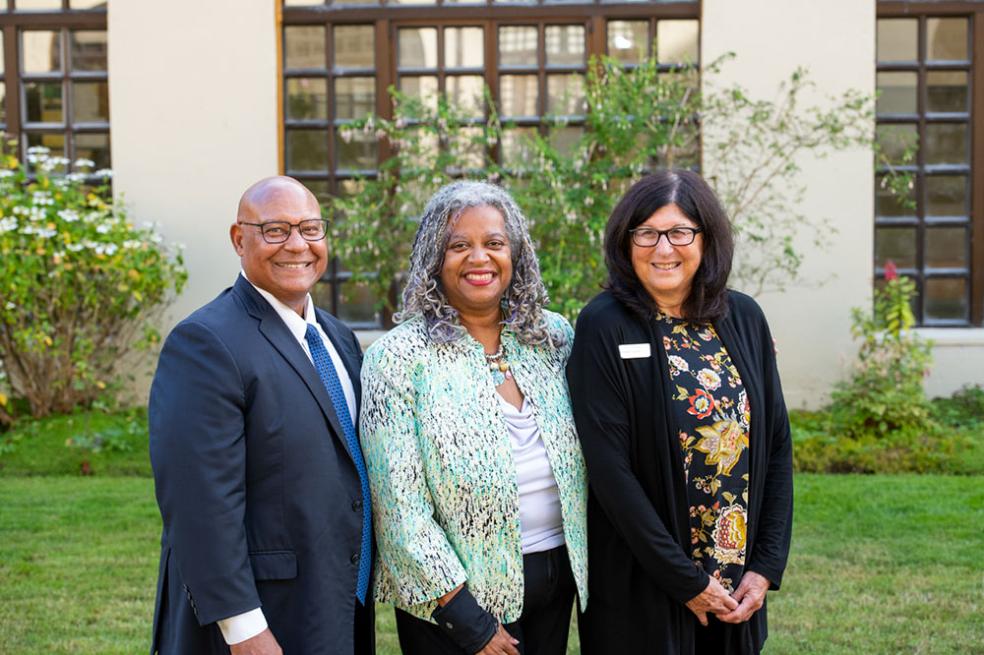 Cal Poly Humboldt celebrated the recipients of the President's Distinguished Service Award as well as the naming of Presidents Courtyard at Founders Hall—the University's most iconic building.
Presidents Courtyard was named at a ceremony on Thursday in honor of alumni who have recently served as presidents of universities and colleges.
Their academic careers are, in part, rooted at Humboldt, where they learned to become leaders and see the world from different perspectives. Today, they are helping to educate the next generation of leaders who can help solve the social and environmental problems the world faces today. The alumni include:
Dean Bresciani ('84, Sociology), North Dakota State University
Bethami Dobkin ('85, Speech Communication), Westminster College
Timothy Karas ('92, Geography), Mendocino College
Hiroshi Kawahara ('79, Physics), Cyber University (Japan)
Devorah Lieberman ('75, Speech Communication), University of La Verne
Cathy Sandeen ('76, Speech Pathology and Audiology), California State University, East Bay
Lynnette Zelezny ('79, Psychology and '81, M.A. Psychology), California State University, Bakersfield
Cal Poly Humboldt also recognized three honorees for their meritorious contributions to the University and community with the President's Distinguished Service Award.
College of the Redwoods President Keith Flamer has nearly 25 years of leadership experience at higher education institutions. Since being named president of CR in 2017, he's remained committed to building inclusive environments, expanding opportunities, and supporting the success of students with diverse backgrounds. 
Flamer is a critical partner in helping CR students achieve their college dreams and make a seamless path for CR students who transfer to Cal Poly Humboldt.
He has been instrumental in the creation of the CR to Cal Poly Humboldt degree pathway programs, including the RN to BSN Nursing program. Additionally, under his leadership, CR has created three new degree pathways that will prepare its students in Social Justice, Environmental Science, and Social Work and Human Services to attend Cal Poly Humboldt and other four-year universities.
"The partnership that CR and Humboldt is developing is extremely rare in higher education. The reality is, because we are a small, rural, and somewhat remote community, our institutions have always been interconnected," President Flamer says. "We share students, faculty, and staff. The question is, how can we better integrate our programs and operations to take advantage of shared resources and create a better experience for local students?"  
As Board Chair of the Cal Poly Humboldt Foundation, Robin Smith ('78, Nursing) is an ardent supporter of Cal Poly Humboldt, advancing the University's vision to create a polytechnic education for the 21st century. Smith had a 40-year successful career initially as a charge nurse, team leader, and instructor. She then became a clinical researcher, running global clinical trials and leading multidisciplinary departments and programs, bringing new medicines and treatments to countries and markets worldwide.
Her early nursing background in Humboldt County includes working at St. Joseph Hospital in Eureka from 1976 to 1980 as a nursing assistant, graduate nurse, and registered nurse. In addition, she completed her Public Health Nursing student project with the Hupa Tribe, learning from Tribal leaders and community health representatives throughout the Hoopa Valley.
A few years ago, Smith reconnected with Humboldt when the new RN to BSN Nursing program was starting. She created an endowment that provides renewable scholarships to students in the Nursing program. A former student athlete and currently a swim coach, she also established two Special Opportunities Endowment Funds to support participation in Club Sports and to assist with necessary improvements to Athletics and Recreational Sports facilities on campus. "It has been very meaningful for me to return to campus to meet with students, faculty, and staff, and to find new ways to give back to my alma mater," says Smith.
Smith was directly involved throughout the planning and implementation phases of Boldly Rising: The Campaign for Cal Poly Humboldt. This is the first ever comprehensive fundraising campaign in the history of the University. She served on the initial campaign advisory committee and is a vice chair on the Boldly Rising Campaign Cabinet. 
"Giving to Cal Poly Humboldt is about supporting a university that develops the whole student, that helps students find their passions and become the best they can be. The wisdom and lessons learned during my time at Humboldt continue with me to this day. I was encouraged to try new things and to always keep learning, and I am very appreciative of that," Smith says.
Connie Stewart ('88, Speech Communication), executive director of Initiatives at Cal Poly Humboldt, has a long and distinguished commitment to the campus and local community. She spent 11 years as executive director of the University's California Center for Rural Policy (CCRP), a research center committed to informing policy, building community, and promoting the health and well-being of rural people and environments. She continues to serve as chief policy advisor for CCRP.
Stewart hosts the Redwood Coast Connect Broadband Regional Consortium, which is dedicated to deploying reliable, high-speed broadband to everyone in Del Norte, Humboldt, and Trinity counties. She also actively represents the community as part of several statewide initiatives.  She was recently appointed to the newly formed California Transportation Commission, California State Transportation Agency, and California Department of Transportation (Caltrans) Inter-agency Transportation Equity Advisory Committee. 
Stewart also serves on the Advisory Board of GoldenStateNet, which is funded through California State Legislature and Governor Gavin Newsom's "Broadband For All" legislation. GoldenStateNet was selected by the California Department of Technology to manage the development, acquisition, construction, maintenance, and operation of the statewide open-access middle-mile broadband network.
Stewart was a mayor and a member of the city council in Arcata for eight years. She also served for six years as a state legislative field representative for one of the largest rural districts in California.
Stewart has received multiple awards for her work, including Humboldt County Women of the Year in 2016 by Sen. Mike McGuire, a Nonprofit Leader Achievement Award, a Rural County Representatives of California President's Award,  and an Innovations in Networking Award for Gigabit/Broadband Applications from the Corporation for Education Network Initiatives in California for championing efforts to bring broadband to rural communities.  She credits her passion and advocacy for rural communities to her time at Cal Poly Humboldt. 
Stewart continues to build her legacy and impact students by making a bequest commitment—a planned gift that allows donors to make the University a beneficiary in their will, retirement plans, life insurance policies, or other assets—of $350,000 to the University.
Recently she was named one of the Notable Women of Humboldt County, a project of the Clarke Historical Museum in honor of the 100th anniversary of the 19th Amendment, for her longtime commitment to the region. She continues to inspire and support students in their pursuit of careers that serve and build communities.