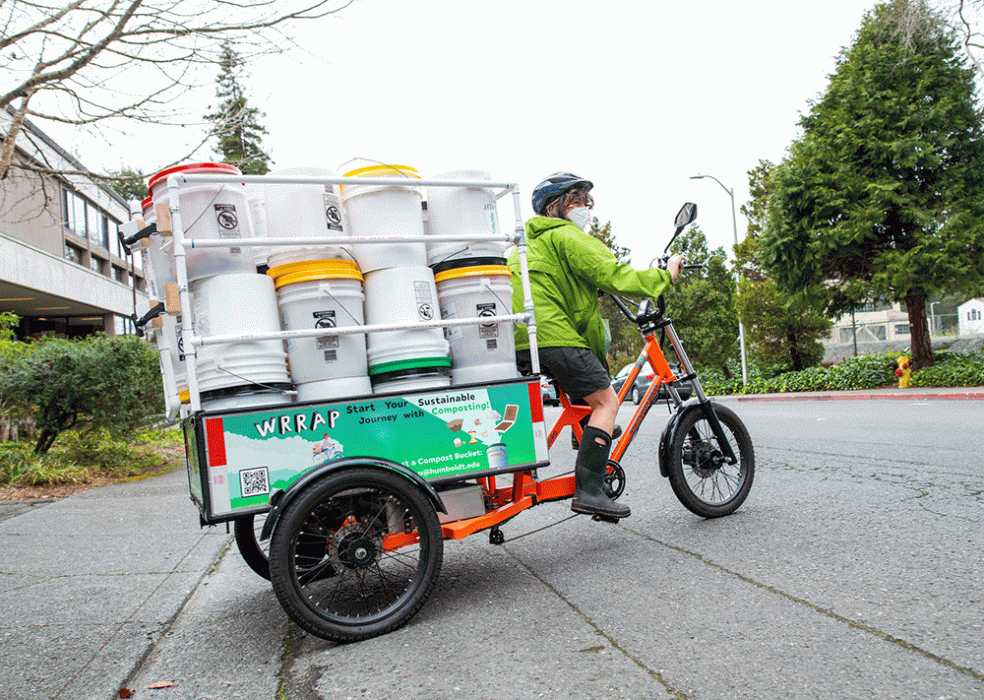 Cal Poly Humboldt released its new roadmap to become carbon neutral by 2045 and move toward building a campus and community that's more resilient to climate change.
The plan includes 35 strategies to curb the consumption of fossil fuels, procure or generate electricity from renewable resources, sequester carbon, integrate climate action into academics and research, and build resilience to present and future climate change hazards. Among the strategies are replacing natural gas-powered boilers with electric heat pumps, installing solar panels and battery storage on campus, expanding bike share and car share programs, developing a zero waste action plan, and converting unused turf areas to native, climate adapted plantings.  
As a signatory to the Second Nature Climate Commitment since 2016, the University is mandated to develop and update a climate action plan every five years. The University released its first Climate Action Plan in 2017, which set a course to reduce greenhouse gas emissions by 2020. The University successfully achieved that goal, lowering emissions by 36% less than 1990 levels, even as campus population and building footprint trended upward during the same period.
CAP 2.0 comes after two years of research, analysis, and stakeholder engagement. The Humboldt Advisory Committee on Sustainability and six working groups reviewed, refined, and recommended strategies and actions for the plan. The Office of Sustainability also facilitated public forums, presentations, and a public comment period Students, faculty, staff and community members were involved in crafting the final document. 
"Thanks to the input from our campus and community partners, we have a plan that is far-reaching in scope," says Morgan King, Cal Poly Humboldt's climate action analyst. "The active engagement of our campus and community will continue to be one of our greatest assets as we move forward with implementation." 
On Monday, April 18 at 3 p.m., King will host a Climate Action Forum. The event will be an opportunity to learn about and discuss the strategies to achieve a carbon neutral and resilient campus. To learn more and register for the forum, go to the Climate Action Planning website. 
About sustainability at Cal Poly Humboldt
From its curriculum and operations to investments, Humboldt has a longstanding commitment to sustainability. Humboldt has long been a premier institution offering robust experiences and training for students interested in sustainability, primarily driven by student activism and leadership. In 1987, Humboldt students created the Graduation Pledge of Social & Environmental Responsibility, which has become a tradition and been adopted by many universities across the nation. Sustainability topics and case studies are incorporated into hundreds of classes. 
Humboldt was also the first public university in California to ban the sale of single-use plastic water bottles on campus, after students waged a successful campaign called Take Back the Tap. The HSU Foundation led their peers across the nation by divesting from fossil fuels after a successful student advocacy campaign in 2013.
Humboldt has been included in the Sierra Club's top 100 sustainable schools since first being named a "Cool School" in 2018. Humboldt has been recognized twice by the Association for the Advancement of Sustainability in Higher Education for earning a STARS Gold rating. And most recently, the campus has set goals to earn a STARS Platinum rating, an elusive and exemplary status that no other CSU campus has yet to achieve