Image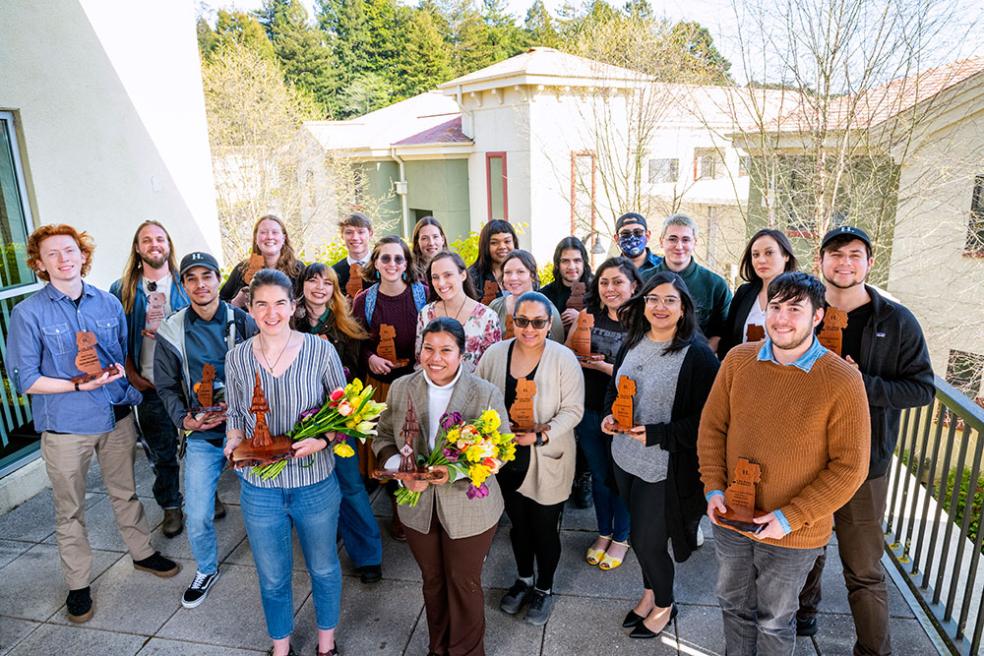 Recognizing the academics and co-curricular excellence and achievements of our students. Congratulations to this year's winners and nominees!
Winners receive an award sponsored by Forever Humboldt, the Cal Poly Humboldt Association.  Additionally, the overall winners receive a financial award from the Webb Student Leadership Endowment. 
OVERALL OUTSTANDING STUDENTS OF THE YEAR
Steffi Puerto, Journalism and Critical, Race, Gender & Sexuality Studies 
Steffi Puerto began her career at Humboldt in the Creando Raíces Place-Based Learning Community in 2019, where she quickly was recognized for a passion for Ethnic Studies and a commitment to bringing critical examination of identity, oppression, and resistance to all her work. From the outset, it was clear Puerto wanted to connect her passion for student journalism, film editing, community organizing, and culture work with her scholarship in both Ethnic Studies and Journalism.
As a staff member and the PR manager for El Leñador, the bilingual student-run newspaper on campus, Puerto has made an enormous footprint helping guide and advise staff regarding its coverage of communities of color on and off campus. Puerto has covered immigrant stories, DACA, and featured local community leaders and events. For her piece "Hate Crime at El Jardin Santuario," she was nominated for Best News Video for 2023 by the California College Media Association. 
In the PR manager role, Puerto has also planned and presented workshops for the newspaper at Cal Poly Humboldt's Campus Dialogue on Race, the Social Justice Summit, and the Associated Collegiate Press (ACP) Spring Conference 2022. She  co-presented a workshop at the 2023 ACP conference on the topic of "Improving BIPOC Diversity in the Newsroom & Reporting." Notably, Puerto was also selected to participate in the prestigious Dow Jones Multimedia Training Academy in 2021 for student journalists.
Puerto was also a contributing author, editor, and social media manager to CouRaGeouS Cuentos Journal of Counternarratives Volumes 3 and 4. After being a first-year student during a challenging year (2019-2020) with everything from power outages, fires, and a global pandemic, she returned and began contributing to student journalism and publications. In CouRaGeouS Cuentos, Puerto took on the role as editor and transformed the intimidating process of editing student's work into one of building relationships and creating a safe space for students to tell their stories. 
She is a key member of El Centro Académico Cultural de Humboldt where she is showing up for other students of color and student organizers. She is using her social media finesse to serve as the marketing and social media specialist while also serving as the social media coordinator for the DHSI: Education project. 
While these projects are all linked to her employment, they are also reflective of her excellence in Ethnic Studies and Journalism. Puerto is a standout in putting theory into practice. 
Molly Jane Urtz, Social Work 
Molly Urtz is an active volunteer on top of being a student-athlete on the Humboldt Crew team where she spends 25 hours per week training. Urtz somehow manages to be engaged, positive, and a consummate team player while balancing her responsibilities at Youth Education Services (Y.E.S.) and her schoolwork. In Fall 2019 and Fall 2020, she was named to the Dean's List and as a Presidential Scholar.
Urtz has been a highly committed student at Y.E.S. during her undergraduate career. From the very start, she was passionate about getting involved in the local community and exposing young learners to the natural world through environmental activities. She has been an enthusiastic and dedicated Y.E.S. volunteer and student leader for six semesters, contributing a remarkable 380 hours (and counting!) to community-based volunteer programs and community-engaged learning. 
After a year of volunteering, Urtz was selected for an elevated leadership position at Y.E.S. which she has held for two years. As the assistant director for the Environmental Education (EE) program, Urtz is responsible for recruiting, training, and supporting university volunteers. The Assistant Director role is an unpaid internship position and requires a commitment of 6-8 hours a week. Urtz is cooperative in her approach, contributing to educational and joyful meetings for the EE cohort. 
Urtz lends her playful nature, curiosity, and intellect to planning and leading truly inspired workshops for children. She has put considerable effort into rooting projects to the Humboldt County environment to enhance learning about the local area. 
During the 2020-21 academic year, she helped lead the volunteer team with flexibility, innovation and maturity as EE pivoted to virtual programming due to COVID-19 restrictions. Urtz helped the program adapt to remote volunteering and coordinated the development of bi-weekly academic enrichment packets for youth at the Jefferson Community Center. The environmental packets championed volunteer ideas and creativity, while addressing a science-based theme and incorporating activities for different grade levels. 
Outside of the Y.E.S. EE program, this spring she is a counseling intern at Trinidad Elementary where she spends 10-15 hours a week counseling kids to help them have a more successful school experience. By graduation, she will have completed 400 hours as an intern at this school site over the course of her senior year. 
ACADEMIC
Excellence in Arts, Humanities & Social Sciences
Vanessa Raybon: English
Excellence in Natural Resources & Sciences
Jacob Taylor: Environmental Resources Engineering 
Excellence in Professional Studies
Jeremy Nichols: Child Development 
Excellence in Visual & Performing Arts
Jamison Maciel: Music  
Patricia O. McConkey Outstanding Graduate Student Award
Alexander C. Brown: Natural Resources 

Anne Howard:  English

Benjamin Jackson Anjewierden: Psychology–Academic Research Concentration

Melody Tew: Biology

Skye H. Choi: Kinesiology 
Outstanding Student Research
Aidan Ford Meyer: Computer Science 

Chad Bellinger: Computer Science 

Claire J. Rogers: Physics–Astronomy Concentration 

Emma Modrick: Oceanography, Math 

Giselle Urquijo: Computer Science 

Hannah Joss: Environmental Science & Management 

Heather Theresa Hollingsworth: Oceanography 

Katie Hoy: Oceanography

Kana Voelckers: Computer Science 

Louise Parr: Oceanography

Mishell Lopez: Kinesiology 

Rebecca Reibel: Oceanography

Skye H. Choi: Kinesiology  

Stuart Goran: Oceanography 

Marin Maple: Oceanography
Ian Fournier: Oceanography
Jackson Keechler: Oceanography

CO-CURRICULAR
Student Life
Outstanding Contribution to an Associated Students Program
Brittany Arzola: Critical Race, Gender & Sexuality Studies 
Outstanding Contribution to a Campus Club, Program, Or Organization
Catalina May Carlton: Art Education
Excellence in Student Employment
Frankie Garcia: Biology
 
Athletics
Excellence in Club Sports
Raul Roman: Criminology & Justice Studies and Psychology 
Excellence in Intercollegiate Athletics :
Malia Seeley: Environmental Resources Engineering
 
Activism
Excellence in Sustainability
Isabella Goodspeed Moore: Environmental Resources Engineering
Excellence in Community Service 
Corinne Harris: Psychology
Al Elpusan Award for Student Activism
Alexis Nataly Quiroz Arredondo: Sociology