Humboldt State University will host a free public screening of "Becoming California" a public television documentary exploring man's relationship with the environment 7 p.m. March 8 in the Van Duzer Theatre.
Image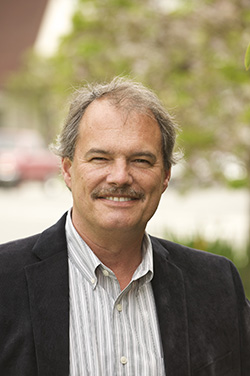 The three-part special examines California's changing environment: its natural history, natural resource exploitation, and how nature and people can better coexist. It is scheduled for broadcast this fall on public television stations throughout the country.
The documentary is part of the California Environmental Legacy Project, a statewide multimedia education initiative designed to raise public awareness about environmental change in California.
On March 8, HSU biology professor Jeffrey White, one of the project's executive producers and co-founder of the Legacy Project, and Kit Tyler, the producer and director of the film, will introduce the project and the documentary. Following the screening, White and Tyler will lead a question and answer session.
Narrated by award-winning actress Jane Fonda and with an original score by legendary musician Pat Metheny, the film presents a monumental tale of colliding tectonic plates, the community of life, human exploitation, and reconciliation with nature.
The Legacy Project is a statewide initiative led by Humboldt and Sacramento State with major funding from the National Science Foundation, HSU's Redwood Science Project and other supporters. Collaborators include the California State Parks, the National Park Service and the U.S. Geological Survey.
The event is free but tickets are required. For tickets, visit the HSU Ticket Office in the University Center, call CenterArts at (707) 826-3928, or e-mail carts@humboldt.edu. For more information visit humboldt.edu/centerarts.
For more information on the California Environmental Legacy Project, visit calegacy.org.