Capturing the beauty of the California coast through exquisite woodcut prints and prose, California's Wild Edge: The Coast in Prints, Poetry, and History is a new traveling exhibition appearing at HSU's Reese Bullen Gallery from Sept. 1 to Oct. 8.
Image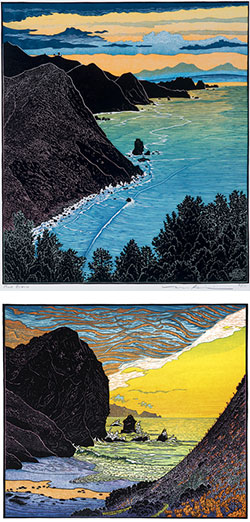 The exhibition features artist Tom Killion's Japanese-style woodcut prints, which vividly portray the coast's ever-changing moods and diverse formations. From Southern California to Humboldt County, Killion's work colorfully captures the meeting of land and sea.
Deepening the experience are complementary writings by Pulitzer Prize-winning poet Gary Snyder, carefully chosen to provide a rich history of the coast through poetry and prose. Other stirring perspectives on the California coastline come from California writers, including local poets, Jerry Martien and Jim Dodge, Native Californian traditional stories, and accounts of travelers. To accompany the exhibit at HSU, an artist talk by Tom Killion with poetry readings by Jerry Martien and Jim Dodge will be held on Thursday, Sept. 22 at 5:30 p.m. in the Authors Hall, located on the second floor of the HSU Library. A reception will follow in the Reese Bullen Gallery.
California-born artist Tom Killion is well known for his four decades of work in the medium of woodcut printmaking. Killion uses Japanese carving tools, papers, and his own adaptation of the traditional key-block process to create relief prints of landscapes. Killion currently resides in Point Reyes, CA and recently released his newest text, also entitled California's Wild Edge: The Coast in Prints, Poetry, and History, through Heyday Books in summer of 2015. The exhibit, based on this book, was originated by the artist and the San Francisco Public Library and is traveled by Exhibit Envoy.
The gallery is open Monday, Tuesday, and Wednesday from 12 to 5 p.m., Thursday 12 to 7 p.m., Friday 12 to 5 p.m., and Saturday 10 to 2 p.m., with free admission to exhibits and events. For more information about the gallery, please contact the gallery office at (707) 826-5814 or rbg@humboldt.edu. For parking information, please visit humboldt.edu/parking.