Humboldt State is joining schools around the country for Campus Conservation Nationals, a competition to reduce electricity and water usage on university and college campuses.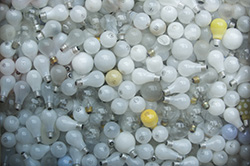 From February 13 to March 6, HSU and more than 100 schools around the country will compete to see who can conserve the most water and electricity in residence halls. Campuses will enter weekly utility meter readings into an online dashboard, which will be tallied at the end of the competition. Schools with the highest percent reduction in electricity and water usage will be named the winners.
Campus Conservation Nationals is organized by the U.S Green Building Council, the Alliance to Save Energy, the National Wildlife Federation and Lucid, a cleantech software company.
The HSU effort is being led by PowerSave Green Campus, a student-run initiative that promotes green careers, sustainability and environmental awareness. PowerSave Green Campus won the 2005 and 2007 UC/CSU Best Practices award for student-led energy efficiency programs and the 2007 CSU Office of the Chancellor's energy competition.
For more information, visit powersavehsu.com.