If the hive of activity during the first week of school seems even busier than usual and the requests for directions more common, it's not your imagination. The largest incoming class of freshmen in HSU history–1,429 strong–brings the overall enrollment to 8,600 students, also a record according to preliminary figures.
Image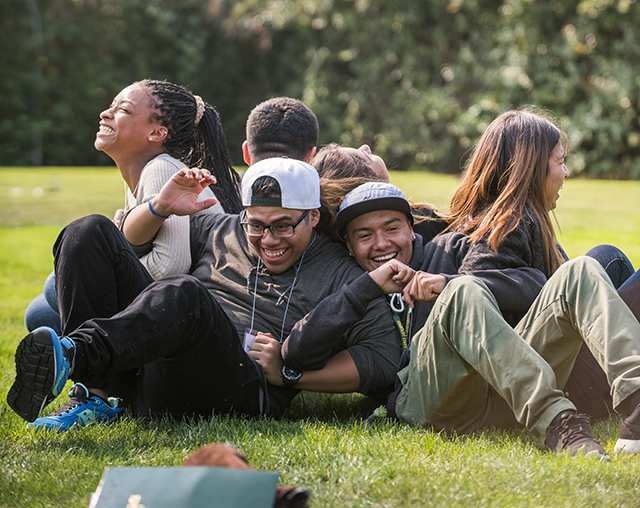 The surge of students marks the sixth consecutive year of growth. The 2015 fall census will establish official counts later in the semester.
Image

Women comprise 64 percent of the incoming freshmen class of 1,429 students, raising their numbers in the overall population to 57 percent. More than 38 percent of Humboldt State's freshmen call Los Angeles home, ranked ahead of the San Francisco Bay Area's 15 percent. Those numbers are up 6 and 2 percent, respectively, from 2014's totals.
Since being designated a Hispanic Serving University Institution in 2014 by the U.S. Department of Education, HSU's Hispanic/Latino student population has surged. The group makes up 44 percent of this fall's incoming freshmen, the largest representation of any identified ethnicity.
First-time students aren't the only new faces on campus. Another newcomer is Dr. Theodora J. Kalikow, who came to HSU in July to serve as Interim Provost and Vice President for Academic Affairs. During her career in academia, Kalikow has worked as president of the University of Maine at Farmington, president of the University of Southern Maine, and interim vice chancellor of the University of Maine System. She assumes the provost role at HSU while a search to fill the position permanently continues.
Twenty-one faculty members begin their Humboldt State careers this semester. New tenure-track instructors include Ramesh Adhikari (Business), ,Janelle Adsit (English), Taylor Bloedon (Kinesiology & Recreation Administration), Brandon Browne (Geology), Andre Buchheister (Fisheries Biology), Leena Dallsheh (Middle Eastern Studies), Joshua Frye (Communication), and Amber Gaffney (Psychology).
Also joining the HSU faculty are Séan Healy (Kinesiology & Recreation Administration), Kerri Hickenbottom (Environmental Resource Engineering), Paola Rodriguez Hildago (Physics & Astronomy), Maria Iturbide (Psychology), Troy Lescher (Theatre, Film & Dance), Melanie Michalak (Geology), Marissa O'Neill (Social Work), Jasper Oshun (Geology), Kauyumari Sanchez (Psychology), Marissa Ramsier (Anthropology), Anthony Silvaggio (Theory & Environment),Tyler Stumpf (Business), and Josh Zender (Business).