Image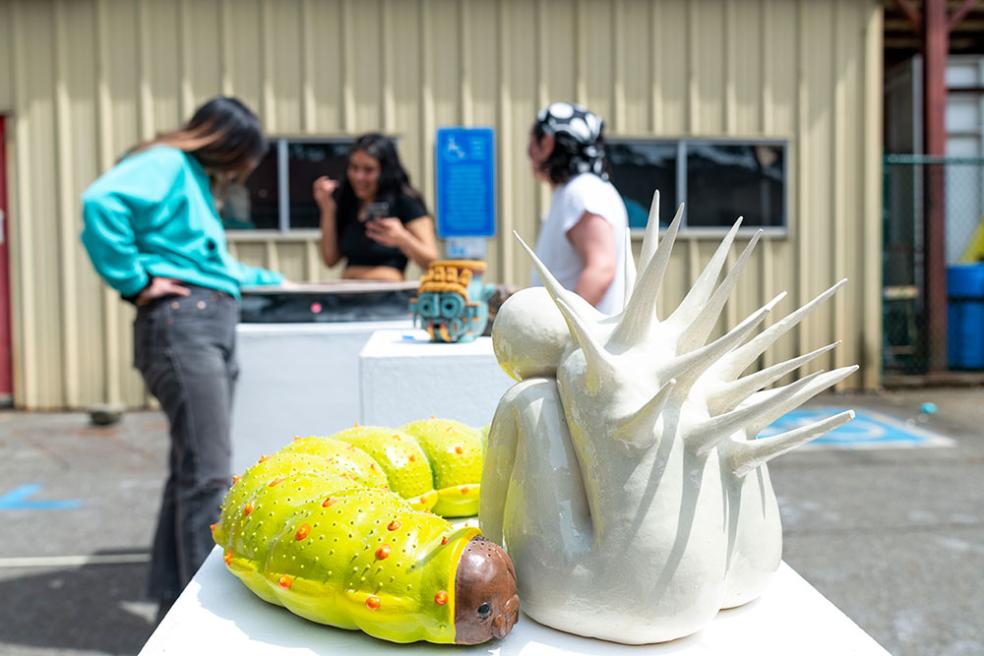 Students of ceramics arts are busy preparing for a whirlwind weekend, April 28-29, at the California Conference for the Advancement of Ceramic Arts (CCACA), a prestigious gathering of students and renowned artists in Davis, California.
The conference offers artist talks and demos, and sees dozens of pop-up galleries featuring student work fill vacant buildings in downtown Davis.
"This trip is the highlight of the student experience," says Art Professor Carly Slade, who oversees the Ceramics Lab on campus. It's a showcase of student artwork, an opportunity to design and build a gallery showing, and an important networking experience for students. 
"Humboldt does have one of the best shows at the event," says Rebecca Suen, an Art student who is attending the conference for the third time. The first time Suen attended she was still in community college, and though she had already selected Humboldt to complete her Bachelor of Arts, she says seeing Humboldt students' work on display helped reinforce her decision. 
This year, students from more than 30 schools will show work, in addition to professional artists. Of the 24 Humboldt students signed up to attend, 22 will be showing 59 pieces. The space that was selected for their gallery-- one of a variety of unconventional spaces that students transform into one-of-a-kind gallery exhibitions--has rust orange carpet and dark wood paneling. 
Because students aren't allowed to decorate the walls, they decided to lean into the decor, designing the show around a '70s theme. "The look and feel are a natural fit, as Humboldt ceramics have long been inspired by the California Funk movement, which emphasizes funky, funny, bright ceramics," says Slade. "It's very Humboldt."
This year's pieces were juried by Art instructors Carly Slade, Mitch Springer and Dave Zdrazil, and while not every piece submitted was chosen, Slade encourages students to attend the conference even if they don't have art in the gallery. 
"It's super cool for the students," she says. "Many of them can't get out from behind the Redwood Curtain to bigger areas to see art so being able to see top caliber artists close to home is an invaluable experience for them."
The conference is a hands-on learning experience for students who are interested in becoming professional artists. Students will carefully pack the ceramics, pedestals, tools, paint, and spackle into a 15-foot Uhaul truck on Thursday. They will immediately drive to Davis and set up the gallery overnight in order to be able to open by 10 a.m. Friday. They'll attend workshops and artist talks, meet with collectors, check out the shows of the other 29 schools and more before turning around Sunday morning, packing up the gallery, and returning to Humboldt.
"It's stressful but it's a good kind of stress," says BFA student and Ceramics Club President Catalina Carlton. "We're pulling together and helping each other as a family."
The event is coordinated by the Ceramics Club, which also covers much of the funding for the travel through ceramics sales and other fundraising efforts. "It's a long process," says Carlton. "We're already planning what to do next year."