Joseph I. Castro, the new Chancellor of California State University, made his first official visit to Humboldt State University on Tuesday. In a whirlwind day of virtual sessions, the Chancellor met members of the campus community and other constituents to learn about important HSU initiatives, programs, and community partnerships.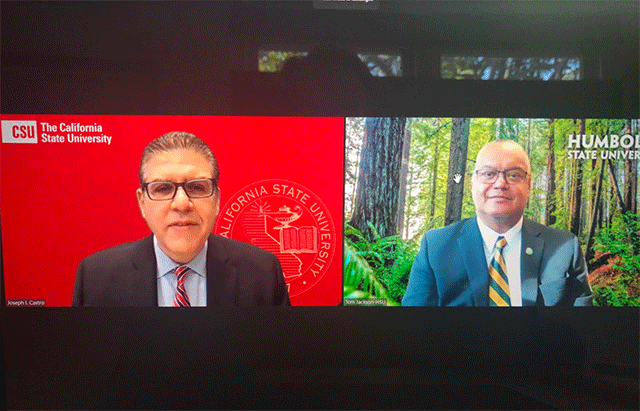 HSU is the fourth stop of the Chancellor's tour of all 23 campuses in the CSU.
"It's important for me to hear directly from all of you and I don't think I can do my job without hearing all the perspectives," the Chancellor said during an open forum with the campus community.
The HSU tour began with a meeting between the Chancellor and the CSU First Lady, Mary Castro, and HSU President Tom Jackson and his wife, Mrs. Mona Jackson. Throughout the day the Chancellor met a wide variety of constituents, including student leaders, faculty, staff, labor leaders, and community partners.
Mary Castro, an outspoken basic needs advocate, also heard from campus staff about University support resources and services that help students who are struggling with food and housing insecurity.
"I'm deeply grateful to Chancellor Castro and Mrs. Castro for engaging with our campus community and for his enthusiasm for the people, programs, and place that make HSU so amazing," said HSU President Tom Jackson, Jr.
During the Q&A session of the open forum, the Chancellor addressed several timely topics—such as equity, ethnic studies, and online learning—while reiterating his commitment to supporting HSU now and in the future.
"I look for ways in which this office can be as helpful as possible to each of the campuses and in this case, to Humboldt State University, so that it can achieve its goals and fulfill its greatest aspirations," he said. "I've been very impressed with the aspirations that I've been hearing about thus far."
Among HSU's aspirations is becoming the state's third polytechnic university, an opportunity the University and CSU are currently exploring.
"I think it's a good idea to explore and to figure out how it can be part of the future success of Humboldt State and, by relationship, to the whole CSU," he said. "I'm looking forward to hearing more details."
The grandson of Mexican immigrants, the first in his family to go to college, and the first person of color to serve as CSU chancellor, he shared his unique perspective on the role of HSU and other CSU campuses as Hispanic Serving Institutions.
"We have the opportunity to serve students and families from all backgrounds and as a Latino I am very happy that we serve so many Latino students and families," he said. What being an HSI means, the chancellor added, includes providing mulit-lingual communications to build connections with students and their families.
He also praised HSU's strong commitment to sustainability.
"It's an asset that Humboldt State brings to CSU and I think there are ways in which the rest of the system is going to learn from your experiences," he said. "It positions Humboldt State in a very strong way going forward with your programs and location where you can really be a beacon for that work, not just in our system but nationally."
Watch the recording of the Open Forum with Chancellor Castro.