Humboldt State University's College of Natural Resources and Sciences (CNRS), part of which had its 1930s genesis in a campus fish hatchery, is showcasing HSU's 100th anniversary with a full slate of special science lectures and open houses in October.
Image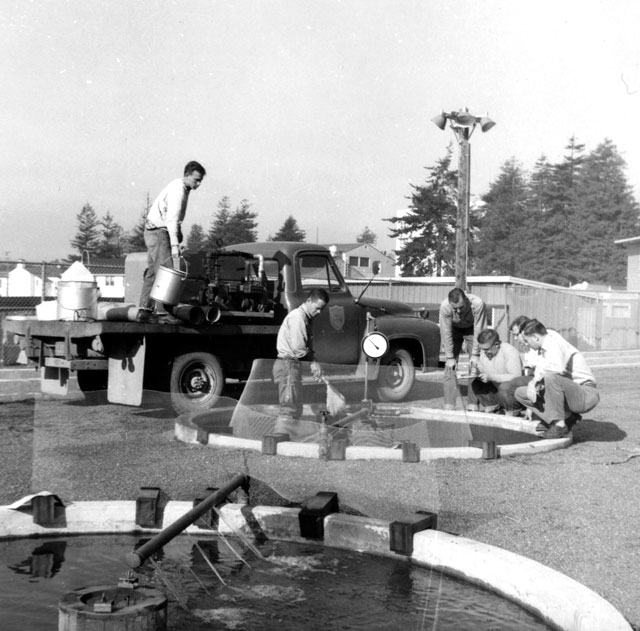 The college's Centennial roster starts Tuesday evening, Oct. 1 at 7 p.m. in the Van Duzer Theatre with a presentation by renowned Population Bomb author and biologist Paul Ehrlich of Stanford University. His talk is titled "Ethics, Environment and Avoiding the Collapse."
Image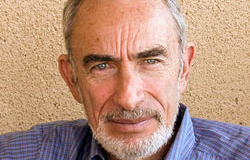 The next day, Wednesday, Oct. 2, from 9 a.m. to 2 p.m., CNRS will host free tours of its freshwater Fish Hatchery, adjacent to the Wildlife & Fisheries building.
In the history of those facilities lies a tale of how the natural resources division of the college got started, as distinct from the sciences, which reach back to HSU's earliest days. For example, Humboldt State Teachers College President and Stanford graduate Ralph Swetman (1924-1930) appointed the school's first zoology instructor (and the first college librarian).
The push for natural resources instruction sprouted later. In the winter of 1938-39, as World War II loomed, zoology instructor Hortense Marie Lanphere had an idea: she sought approval from Humboldt State College President Arthur Gist to create an experimental fish hatchery in a small stream in back of the campus.
According to the 2003 CNRS history, Natural Resources at Humboldt State College: the First 30 Years by Fisheries Biology Professor Richard L. Ridenhour, Lanphere put up $250 of her own money to bring the hatchery project to fruition.
In early 1940, the Prairie Creek State Fish Hatchery delivered the initial shipment of 10,000 "eyed" salmon eggs and some 9,000 hatched and survived. Spring semester that same year, 12 students signed up at $2.00 a person to take the new class in Hatchery Biology.
In the words of Ridenhour, who taught at CNRS from 1960 to 1992, "The first Natural Resources class at Humboldt State was under way."
Lanphere's hatchery had a broad impact. It enshrined Humboldt State's historical tradition of in-the-field, hands-on learning. And it proved to be the springboard for an expanding natural resources curriculum. Prompted by Lanphere's example, Professor Fred Telonicher, whose name christens HSU's Marine Laboratory in Trinidad, elected to supplement the Hatchery Biology course with counterparts in game management and conservation education.
The newly-modernized Telonicher marine lab, completed in 1966, will host a Centennial open house for both campus and community on Friday, Oct. 11, from 11 a.m. to 2 p.m. The Telonicher's equipment and facilities enable students and faculty to conduct advanced research, a rarity at undergraduate institutions.
Environmental Science (currently 510 students) and Wildlife (421) are among the college's most popular majors and another CNRS Centennial event will spotlight an aquatic and fisheries sciences professor from the University of Washington, Daniel Schindler. He will speak on Wednesday, Oct. 9 at 7 p.m. in the Native American Forum opposite the Behavioral and Social Sciences Building on "Science and Advocacy in Environmental Conflicts: a Case Study of the Proposed Pebble Mine and the World's Greatest Salmon Fishery." The title refers to the potential environmental impact on some of the world's largest and most valuable sockeye salmon runs of proposed open-pit mining in Alaska's Bristol Bay watershed.
Image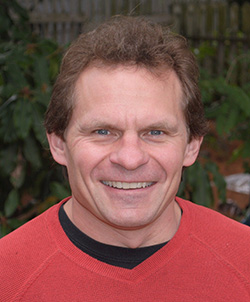 CNRS is a leader not only in biology (1,250 biology/botany/zoology majors), fisheries, forestry and wildlife, but also in the marine sciences. Students and faculty benefit from state-of-the-art research facilities with the ocean-going R/V Coral Sea as well as the Trinidad lab. "We have one of the few undergraduate oceanography degrees in the country," notes CNRS Dean Steve Smith. "Most are available only at the graduate level."
Known as a sea-faring classroom, the R/V Coral Sea will host a Centennial open house on Friday, Oct. 4, from noon to 4 p.m. Visitors will board from the western-most dock at the Woodley Island Marina in Eureka.
Other on-campus and off-campus CNRS facilities include the modern new Schatz Energy Research Center, home of leading-edge research in emerging energy technologies like hydrogen. The center will hold an open house on Wednesday, Oct. 9, from noon to 2 p.m. The new structure sits just below the Behavioral and Social Sciences Building.
The name Schatz also refers to the college's L.W. Schatz Demonstration Tree Farm, due east of Eureka, a field experiment station for all aspects of research in tree growing, harvesting and replacement and for productive forest management at small, privately-owned sites.
The farm is buttressed by the CNRS living botany collection Greenhouse, founded in 1982 and the largest in the CSU system, and the Vascular Plant Herbarium, founded in 1960, which received its 100,000th specimen in 2012. It's also the largest CSU-wide.
Physics and astronomy students scan the heavens with the Fickle Hill Observatory, where undergraduates paved the way in 2006 for the installation of a state-of-the-art, 16-inch computer driven telescope, the only university telescope in California dedicated to undergraduate research.
Across CNRS, students benefit from both individual and group field projects in most upper division courses. Many outdoor laboratory sessions take place in natural habitats, like the Arcata Community Forest and Six Rivers National Forest, the Arcata Marsh & Wildlife Refuge and the Humboldt Bay National Wildlife Refuge. A number of courses offer weekend camping field trips for research at more distant sites and the exercise of additional field techniques.
A full schedule of CNRS Centennial events and activities is posted at humboldt.edu/cnrs.