When it comes to sustainability, Humboldt State is doing well, according to the Sierra Club's annual "Cool Schools" ranking.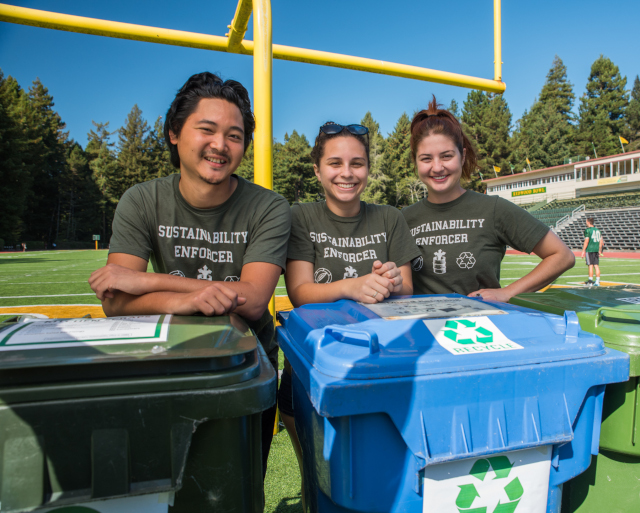 Positioned at No. 31 out of 269 schools, HSU tied several other schools with the highest marks for divestment and innovation, criteria unique to the Sierra Club rankings.
The schools were also rated using data submitted to the Association for the Advancement of Sustainability in Higher Education (AASHE). Last year, HSU earned a STARS—Sustainability Tracking, Assessment & Rating System—gold rating from AASHE.
The Sierra Club weighed some of the AASHE data differently than STARS.
"For example, we give much more weight in the areas of energy, air and climate, and transportation because the Sierra Club believes that progress in these sectors is essential for addressing the climate crisis," the report reads. "… We give more weight to public engagement efforts, out of the belief that colleges and universities have a responsibility to encourage students to be civic actors in their communities. In the area of academics, we give relatively greater weight to curriculum over research."
Humboldt State has a longstanding commitment to environmental responsibility. The University broadly incorporates sustainability across academic and service learning disciplines, as well as many student volunteer programs. Princeton Review consistently rates HSU as a "Green Campus".
The University recently became a signatory to Second Nature's Climate Commitment, and recently completed a comprehensive Climate Action Plan. Last year, the EPA awarded the university with a Food Recovery Challenge Certificate of Achievement for its reductions in food waste. Longer term, the University has set ambitious goals of becoming carbon neutral near 2030, eliminating the "achievement gap" often faced by underrepresented or low-income students, and ensuring that sustainability and social justice are at the core of the HSU educational experience.
The Sierra Club is the largest and most influential grassroots environment organization in the U.S., with 3.5 million members and supporters. The club has helped pass the Clean Air Act, Clean Water Act, and Endangered Species Act, and leads the charge to move away from the dirty fossil fuels that cause climate disruption and toward a clean energy economy.
See the full Cool Schools rankings.