Image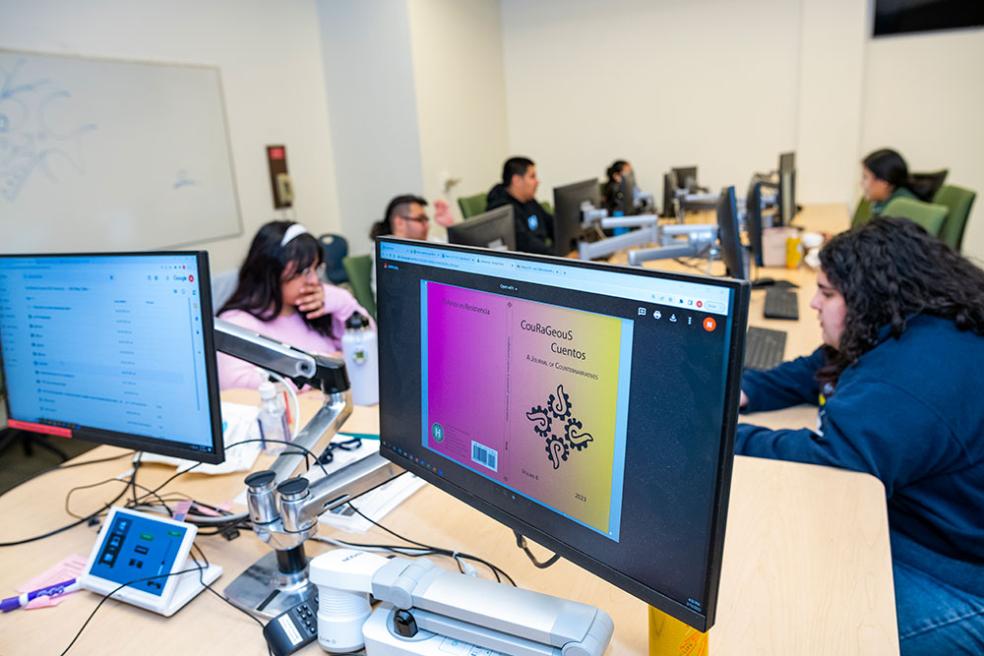 CouRaGeouS Cuentos will be hosting an in-person celebration for Volume 6 on Monday, April 24 from 4-6 p.m. at the Native Forum (BSS 162) at Cal Poly Humboldt. There will be live readings, music, raffles, food, refreshments, and more.
Volume 6 is a collection of scholarly essays, captivating poetry, self-portraits, and reflections highlighting themes such as growing up in complicated households, building and giving back to the community as a form of empowerment, creating bonds through cultural practices, confronting new understandings of self, and healing. These themes reflect the realities of the local community and beyond. For example, this is the first volume that features palabras de sabiduria (words of wisdom) passed down by parents, siblings, and friends. CouRaGeouS Cuentos prioritizes these narratives because its authors understand firsthand that the voices of the people in our community deserve to be celebrated, heard, and published. 
CouRaGeouS Cuentos is an entirely student-run, annual, Library-based publishing journal. It includes the creative writing of students in classes offered by the Department of Critical Race, Gender & Sexuality Studies. In collaboration with the Promotorx Transformative Educators Program, this volume also includes the writings of high school students from Eureka High School and Arcata High School. 
In 2016, students created this journal as a platform to make their stories and counternarratives available to their families, communities, and future students. CouRaGeouS Cuentos is supported by the Critical Race, Gender & Sexuality Studies Department, Creando Raíces Learning Community, Marisol Ruiz, the DHSI Education Grant, and the Cal Poly Humboldt Ethnic Studies Council. Volume 6 will be available online in Cal Poly Humboldt's Digital Commons, and free hard copies will be made available upon release on campus and in the local community.
For more information, contact: nancy.perez@humboldt.edu.