Exams got you stressed? Students in the throes of finals are invited to de-stress with therapy dogs in the HSU Library lobby on Monday, Dec. 11 from 1-2:30 p.m. and Tuesday, Dec. 12 from 6:30-8 p.m.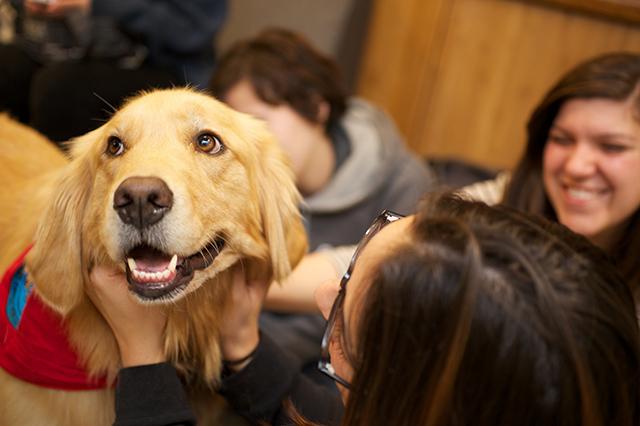 From dental patients to victims of national disasters to war veterans, therapy dogs are good for the body and mind, and have become popular companions for people who've experienced trauma.
Studies have shown that therapy dogs can reduce anxiety and depression. In 2005, UCLA researchers compared anxiety levels of heart failure patients who were visited by two teams – one with dogs and one without. The findings revealed that patients' anxiety score decreased 24 percent when visited by the group with dogs and 10 percent for those visited by just volunteers. The anxiety score for patients not visited remained the same.
That same year, Kent State University launched a pet therapy program, whose dogs have since visited tens of thousands of students. Today, colleges around the nation, including Humboldt State, have brought dogs on campus during strenuous academic times to help students cope with the stresses of finals.
University Center Executive Director Dave Nakamura and his wife, Stasia Walters, started HSU's first official dog therapy program. Since then, pooches certified by Therapy Dogs International have visited campus each semester during finals.
"I was seeing a fair amount of national press about doing these types of things on college campuses, and thought it would be a fantastic way to help students through stressful times," says Nakamura. "We've gotten great feedback, too. I've heard students say that dogs were exactly what they needed and how they look forward to this event every year.
So if you need to unwind, stop by the Library and relax with a furry friend. See below for a list of other events and services offered across campus during finals week.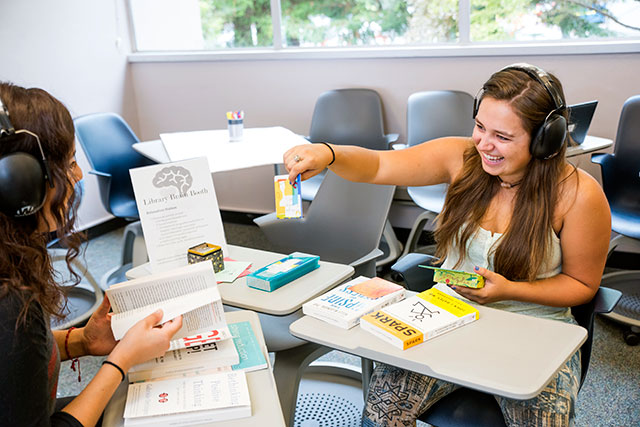 Free Food
Monday, Dec. 11
8 – 11 p.m.
J Cafeteria
25th Annual Pancake Dinner
Therapy Dogs
Monday, Dec. 11
1 – 2:30 p.m.
Library Lobby
Tuesday, Dec. 12
6:30 – 8 p.m.
Library Lobby
Library Hours (Extended)
Wednesday, Dec. 6 – Friday, Dec. 15
See the full schedule
Crafts
Monday, Dec. 4
4 – 5 p.m.
Recreation & Wellness Center 108
Tea & Coloring: Make tea blends and color.
Tuesday, Dec. 5
4 – 5 p.m.
Recreation & Wellness Center 108 – Drop-In Lounge
Crochet Pencil Pouch Making: Crochet pencil pouches with the Peer Health Educators. (All materials provided).
Wednesday, Dec. 6
4 – 5 p.m.
Recreation & Wellness Center 108
DIY Slime
Health & Wellness
Wellbeing Map
Online resources to guide students toward healthy habits and campus support services.
Meditation Room
For quiet contemplation, meditation, reflection, or prayer
Brain Booth
Drop-in, hands-on experiential lab features exercise study bikes, biofeedback machines for tracking vital signs, sound machines, noise-cancelling headphones, and coloring books for grown-ups.
Wednesday, Dec. 6
11 a.m. – noon
Recreation & Wellness Center 108
Stress and Mindfulness: Mindfulness exercise and discussion of stress management skills.
3 – 4 p.m.
Recreation & Wellness Center 124
Mason Jar Meals: How to make on-the-go meals
Thursday, Dec. 7
2 – 3:30 p.m.
Recreation & Wellness Center 126
Free Peer Health Yoga: Relaxing yoga session includes stretches, philosophy, and mental imaging work.