Shayne Sines, a senior in Liberal Studies Elementary Education, is the recipient of the 2015 CSU Trustees' Award for Outstanding Achievement. The HSU senior is earning a bachelor's degree in Elementary Education, a major that meshes with his passion for giving back. "Some of the most rewarding moments of my life are helping others to learn, and I have found that I'm good at it," says Sines.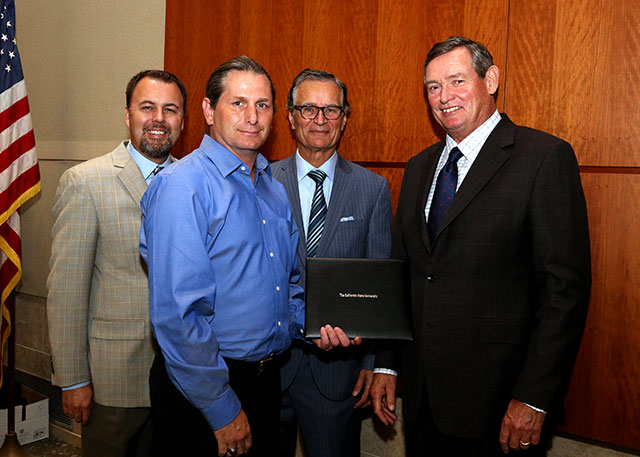 Each year, the CSU Board of Trustees honors 23 students who have demonstrated superior academic performance, personal accomplishments, and community service. The CSU Trustees Awards for Outstanding Achievement are the highest student distinction within the university, and this year's total sum of $147,500 in scholarships is the highest amount ever in the award program. More than 120 donors support the program.
From an upbringing in single-parent household and a family history of drug use, Shayne Sines has overcome his own addiction issues and homelessness to become a promising student. As someone who's completed the 12-step recovery program, Sines knows first hand that it is possible to turn one's life around and become an asset to his community.
Now, as a senior in Liberal Studies Elementary Education at Humboldt State University, Sines is set to graduate with a 3.96 GPA. He's also the first member of his family to continue his education past high school.
Sines says that some of his most rewarding experiences are helping others learn. As member of Humboldt State's chapter of the Student California Teacher's Association, Sines volunteers as a tutor for disadvantaged children through the county's juvenile corrections program. Sines is dedicated to teaching science and math and is a frequent participant at education conferences, including the Humboldt Math Festival and the California Math Conference of the Far North.
After completing his bachelor's degree at HSU, Sines plans to enroll in HSU's School of Education where he'll pursue special education credentials for severe and moderate disabilities, along with single- and multiple-subject credentials.
Read more about the CSU Trustees' Award online.