On a recent Thursday evening, students in Professor Lonny Grafman's engineering 215 class gathered in Science D to present their design projects.
Among them: a sustainable park bench, an energy monitoring system and a pedal-powered blender.
The presentations are part of Grafman's Introduction to Design course, in which students spend a semester creating and building sustainable design projects for a local business. This year, students partnered with Laurel Tree Charter School in Arcata on a series of projects for kindergarten through 12th graders.
Image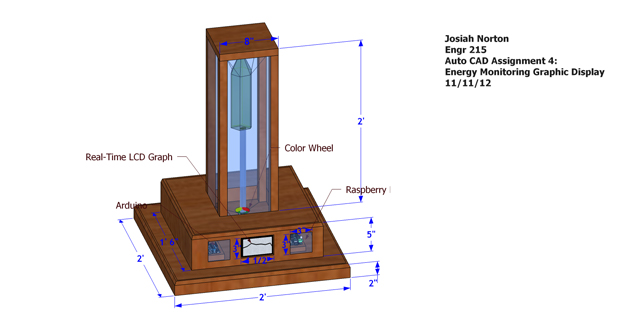 Laurel Tree's mission is to create a sustainable model of education, which means that sustainability is incorporated into the curriculum with things like a school garden, recycling system and classes in vegetarian cooking and permaculture. Grafman's students worked with Laurel Tree teachers over the course of a semester to identify sustainable, eco-friendly projects.
"A lot of sweat and thought was involved in the design process," says Laurel Tree science teacher Becca Schuler.
Shuler worked with a group of HSU students to design the Onderdonk's Box, a game that teaches science students the basics of electrical circuitry. Designed for 7th through 12th graders, the wooden box consists of a pane with a series of light bulbs, batteries and conductive terminals that introduce the concepts of series and parallel wiring.
Another group of students, who called themselves The Lonely Protons, designed an energy monitoring system that allows Laurel Tree students and faculty to view the school's overall energy consumption. Energy data captured from the school's break box is visually represented with a quartz crystal. High-energy use is indicated by the color red; medium usage with the color yellow and low usage with the color green. The date is also displayed graphically on an LCD screen.
Grafman's students have just one semester to conceptualize and build their designs. "It's pretty amazing when you consider that most of them come into the class with little to no science background or building experience," he says.
Current and past project descriptions are posted on Grafman's wiki website for sustainability, appropedia.org.
Grafman's ENGR 215 students have previously been recognized nationally for their work. Last semester, students helped design the Flock House, a self-sustaining dwelling that received nationwide attention when it was unveiled in New York city this summer.
For more information on Grafman's students, visit appropedia.org.