Dr. Eboni Ford Turnbow has been named Dean of Students and her appointment will be effective June 1, 2021. She has served as the Interim Dean of Students since August 2019.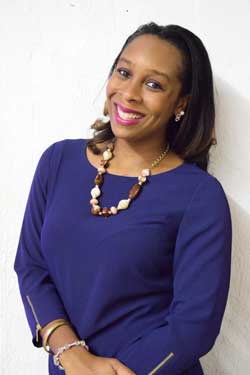 Dr. Ford Turnbow earned her Ph.D. in Sociology at Wayne State University (WSU) where she studied the impact of gender and race within work organizations. She earned her M.Ed. in College Student Affairs Leadership at Grand Valley State University, and her Bachelor of Science in Secondary Education and Health Studies at WSU.
Dr. Ford Turnbow serves as the Co-Chair for the Womxn in Student Affairs Knowledge Community for the National Association of Student Personnel Administrators (NASPA), and is a participant in the fourth cohort of NASPA Supporting, Expanding, and Recruiting Volunteer Excellence (SERVE) . Recently, she was selected to serve as the Sponsorship Co-Chair for the 2022 NASPA Western Regional Conference in Anaheim, California.
During her time at HSU, Dr. Ford Turnbow has made it her priority to infuse a student-centered approach within the entire Office of the Dean of Students. She has built sustainable and collaborative partnerships with staff, administrators, and faculty across the University to contribute to increasing holistic student support efforts and services. Under her leadership, numerous high-impact student affairs practices have been developed, including, but not limited to, the creation of the Institutional Programming Model, Humboldt Orientation Program restructure, and the Student Marketing Center.
"Dr. Ford Turnbow has demonstrated the level of commitment to enhancing HSU's student experience that will lead to continued affirmative impact on student retention and completion and closing equity gaps in degree attainment," says Vice President of Enrollment Management Dr. Jason L. Meriwether. "As a scholar, collaborator, and consensus-builder, Dr. Ford Turnbow is prepared to lead at this critical juncture in HSU's history. I am confident that our students and campus community will benefit from Dr. Ford Turnbow's placement as the permanent Dean of Students."
Dr. Ford Turnbow has a passion for student development and contributes to the constant evolution of the profession of student affairs. She is a past president of the American College Personnel Association (ACPA) - Michigan, a state division of the ACPA, has presented over 75 workshops and presentations at regional and national conferences, and is a published author, with her most recent co-authored book chapter, "When Intersections Collide: Young Black Women Combat Sexism, Racism, and Ageism in Higher Education." Her efforts throughout her career have been honored and recognized by the National Association of Campus Activities (NACA), WSU, and NASPA. She is a proud and active member of Zeta Phi Beta Sorority, Incorporated.
"I am excited for this opportunity and eager to continue the work of enhancing the student experience at HSU," says Dr. Ford Turnbow. "I look forward to reconnecting in-person this fall with faculty, staff, and students and resume prioritizing some innovative developments for students that were paused due to the pandemic."