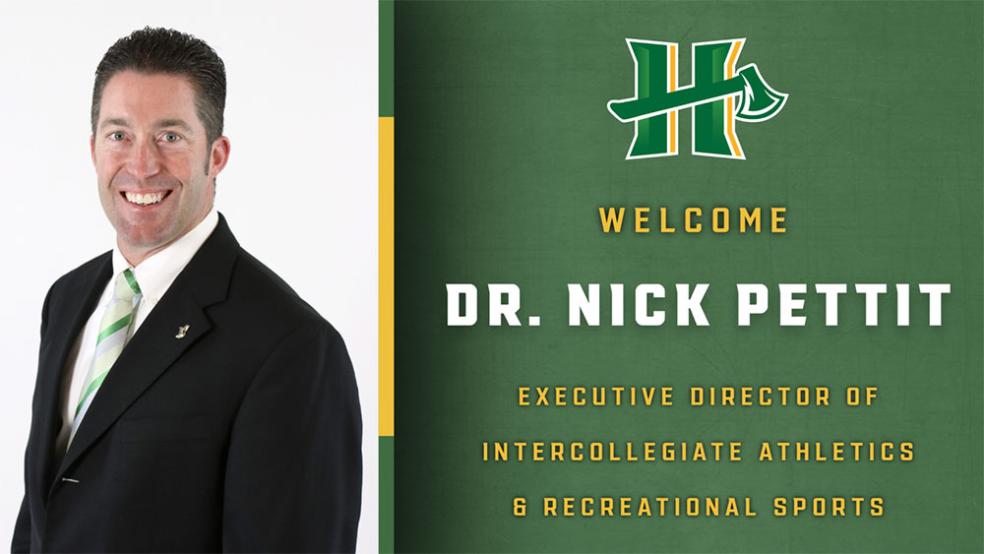 On Monday, May 15, 2023, Cal Poly Humboldt President, Dr. Tom Jackson, Jr., announced that Dr. Nick Pettit will be the next Executive Director of Intercollegiate Athletics and Recreational Sports for the Lumberjacks.
 
This appointment follows a national search assisted by Dr. Kurt Patberg from Mammoth Sports Consulting. Dr. Pettit will begin his tenure on June 8, 2023.
"I am so impressed by Dr. Pettit's experience and knowledge, and I think he is going to make a big impact at Humboldt. He has a deep commitment to student development, enhancing the culture within collegiate athletics, and creating a positive experience for student-athletes," says Cal Poly Humboldt President Dr. Tom Jackson, Jr. "We're excited to welcome Nick to Cal Poly Humboldt and to the entire Lumberjack community."
 
As Cal Poly Humboldt's Executive Director of Intercollegiate Athletics and Recreational Sports, Dr. Pettit will oversee the athletic programs competing in the California Collegiate Athletic Association, Great Northwest Athletic Conference, and NCAA. Dr. Pettit will bring extensive knowledge and executive experience that has a proven track record of leading and serving students both academically and athletically. 
 
"I would like to thank President Jackson and the search committee for selecting me to lead Lumberjack Athletics," said Pettit. "The campus culture at Cal Poly Humboldt made me feel at home and l look forward to collaborating closely with President Jackson's leadership team, our coaches and staff, and the local community to provide a best-in-class experience for our student-athletes. I am honored to build on current successes, enhance the culture, and ignite a contagious momentum that thrives for years to come."
 
Dr. Pettit comes to Cal Poly Humboldt with over 28 years of experience in athletics, both at the Division I and professional levels. Prior to returning to his home state of Michigan last year and serving as the Sparta Area School District Director of Athletics, Pettit spent seven years (2015-2022) at Cal Poly in San Luis Obispo as the Deputy Athletic Director. 
 
At Cal Poly-SLO, he was the Chief Financial and Operating Officer for the Division I athletic program. Pettit led development and revision of long-range strategic planning, where he also managed a $30 million dollar budget. He led facility renovations and capital projects upwards of $35 million dollars and also fundraised $55 million dollars in their most recent campaign with direct oversight and direction of External Affairs. Pettit facilitated the construction of the Dignity Health Baseball Clubhouse as well as Doerr Family Field and the Steve Miller & John Capriotti Athletics Complex. His other projects included the installation of artificial turf at Alex G. Spanos Stadium, the Swanson Beach Volleyball Complex, the Mustang Golf Academy at Dairy Creek Golf Course, and other enhancements at the Bob Janssen Field (softball) and Mott Athletics Center (basketball and volleyball) facilities.
 
Pettit led the athletic department's Diversity, Equity, and Inclusion initiatives. He also succeeded in the task of providing direct sport supervision of the Mustang football, men's basketball, volleyball, beach volleyball, and softball programs, including both head and assistant coach recruitment and hiring practices.
 
Before his tenure at Cal Poly-SLO, Pettit spent seven years (2008-2015) on the Executive Staff and Senior Management team at San Diego State University. He served as the Associate Athletics Director for Facilities and Event Operations, a position in which he successfully led several areas of the department including all athletic facilities, events, video services, and equipment operations. Before his promotion in 2008, He began with the Aztecs in July 2003 as the Director of Equipment Services.
 
With a combined total of 19 years in the California State University (CSU) system, Dr. Pettit possesses success with expansion and development within athletic departments at both Cal Poly San Luis Obispo and San Diego State. As the Cal Poly Humboldt campus growth trajectory trends upwards, Dr. Pettit will work to see equivalent growth in athletics that will transform into success for the student-athletes, staff, and the university as a whole. 
 
"The university is experiencing unprecedented growth, our goal will be to align athletics with this opportunity to serve our student-athletes and promote comprehensive excellence in performance," stated Pettit. "We will focus on student development and academic success, winning championships, and serving our community with steadfast dedication." 
 
Prior to his arrival at San Diego State, Pettit was an equipment manager with the San Francisco 49ers from 1999 to 2003. As an undergraduate at Michigan State, Pettit was the Head Football Manager from 1995-98. Under the tutelage of Head Coach Nick Saban, he supervised a staff of eight students in daily practice and game setup. Pettit was a Graduate Assistant Intern Equipment Manager at San Diego State during the 1998-99 academic year.
 
Dr. Pettit is an educator that serves through athletics. He successfully completed his mixed-method doctoral research focused on Division I student-athlete academic success, specifically studying at-risk students and how athletic departments can best serve those students, which correlates to his passions for student development, student support, student success, retention, and the graduation of student-athletes.
 
Dr. Pettit will be formally introduced to local media and members of the community soon after he begins his appointment at Cal Poly Humboldt.