¡Échale Ganas! is a new grant-funded program at Humboldt State designed to support hands-on learning and career advancement for Latinx students in science, technology, engineering, and math (STEM).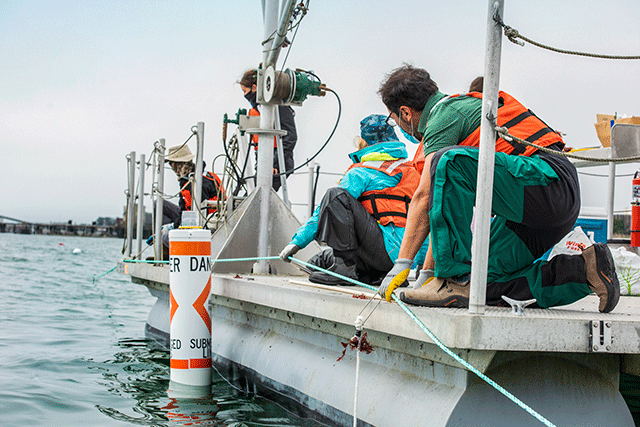 A Mexican expression that literally means to "throw some life into it," ¡Échale Ganas! is often used to say, "Go for it!" The ¡Échale Ganas! program will supplement existing STEM programs for Latinx students at HSU, a Hispanic-Serving Institution since 2013.
"We chose ¡Échale Ganas! as the tagline for our grant to symbolize our hope in this grant to enable and empower Latinx students to seize opportunities to propel their careers in natural resources," explains Wildlife Professor Matt Johnson.
The $249,000 grant was awarded to Johnson and Fisheries Biology Professor Rafael Cuevas-Uribe, in collaboration with Fernando Paz of El Centro Académico Cultural. A hands-on program, ¡Échale Ganas! is geared toward Latinx students working at the nexus of agriculture and natural resources, providing them with experiential learning opportunities like working with sustainable fish farms or using owls for rodent control in vineyards.
"There is a big opportunity gap due to the underrepresentation of students of color, particularly Latinx students, in STEM," explains Paz. "¡Échale Ganas! provides a context that helps students to be successful in settings that can be hostile and challenging for students of color."
Like HSU's Place-based Learning Communities, ¡Échale Ganas! is part of a University-wide effort to support first-generation students and create a sense of belonging for Latinx students in STEM. From the Klamath Connection to Rising Tides, the hands-on cohorts live and study together, eating and breathing science, and building a support network that lasts from freshman year to graduation.
In addition, a signature component of ¡Échale Ganas! are the graduate student mentors, or STEM Promotores, who provide guidance to undergraduates navigating the sciences. Samantha Chavez and Laura Echávez, both graduate students in Wildlife, are the program's first two Promotores.
"There is not enough BIPOC representation in the field of conservation," says Echávez, who is originally from Venezuela and earned her bachelor's degree in Animal Science from Cornell. As a Latina in conservation, she was often intimated by professionals in the field but soon found that most were willing to point her towards new opportunities, Echávez explains. She encourages undergraduates at HSU to take advantage of their resources and never be afraid to ask for help.
Chavez grew up in Los Angeles and came to HSU with a degree in Ecology from UC Santa Cruz and four years of experience as a wildlife technician. She explains that the fieldwork component of conservation often requires students to be away from family and their communities.
"It's important for students to hear from people who have the lived experience of being a minority in the workforce," explains Chavez.
¡Échale Ganas! will also offer Portón internships, for undergraduates in agriculture, aquaculture, and conservation, in addition to professional development opportunities for faculty in the College of Natural Resources & Sciences to learn about culturally responsive pedagogy.
"Learning by doing is vital for launching careers in STEM, particularly for students from groups historically underrepresented in the sciences," says Johnson.
He adds that the program is also critical from a conservation viewpoint.
"Addressing the 'triple challenge' of the next century – preventing biodiversity loss, adapting to climate change, and meeting food demand – will require integrating the needs of people and biodiversity in agriculture," says Johnson.