Image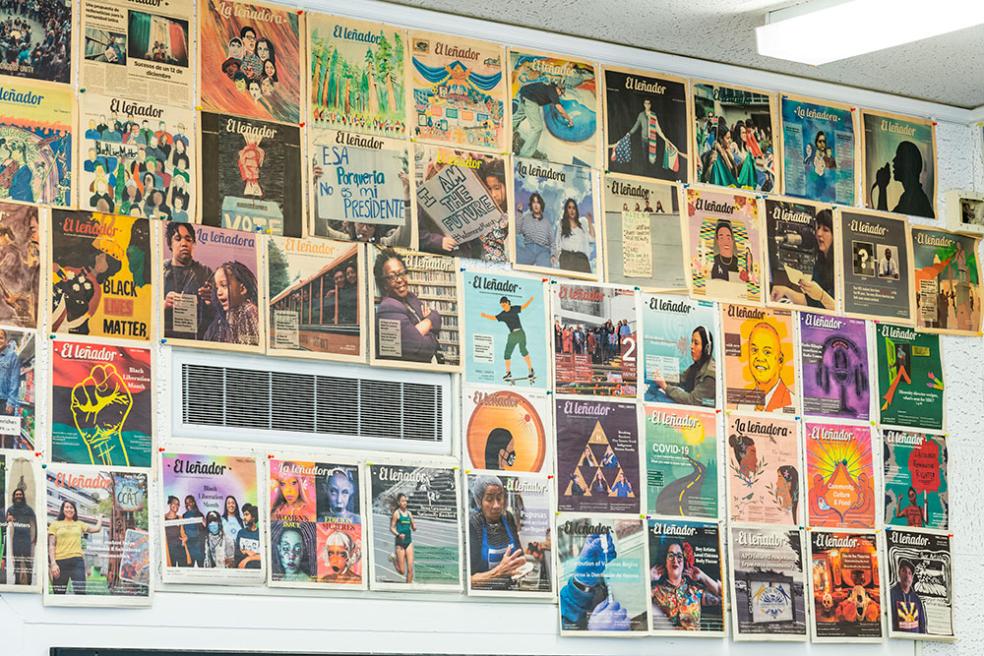 This spring, El Leñador, the student-run Spanish-English paper at Cal Poly Humboldt, is celebrating a decade of award-winning coverage.
Six students launched the inaugural issue of El Leñador in May 2013 as an insert in The Lumberjack newspaper. In the decade since its founding, it grew from a club to a course and into an award-winning monthly publication—now a critical newsource for the regional Latinx community. 
Its inception was an effort between the Journalism & Mass Communication and the World Languages & Cultures departments to serve the increasingly diverse student body, which experienced a surge in its Latino student population. That same year, Humboldt became a Hispanic Serving Institution, a designation for universities whose undergraduate student body is at least 25% Hispanic, according to the U.S. Department of Education. Today, El Leñador not only serves the University's Latino and Spanish-speaking community—nearly one-third of the student body—but the region's. 
El Leñador is the only Spanish-English newspaper in the county, and one of only a few of its kind on campuses throughout California.
"El Leñador is special among college newspapers in California," says Journalism instructor and El Leñador advisor Andrea Juarez. "It stands out not just because it is a bilingual newspaper, but also because the staff tell stories about people of color in a vast way. And up here in Humboldt, the paper has no doubt helped diversify local media coverage." 
While El Leñador has become foundational for the local community, it's a beacon for other student-run university media in California—where 40% of undergraduate students in the CSU system are Hispanic. This March, Juarez explains, staff members presented at the Associated Collegiate Press (ACP) Spring National College Media Conference in San Francisco for a second year in row to provide guidance to other college newspapers seeking to add or improve bilingual coverage.
The publication has earned more than 70 awards from organizations including the ACP, the Society of Professional Journalists (SJP), and California College Media Association (CCMA). Accolades include the prestigious SPJ Best Overall Newspaper in Region 11 (which comprises Arizona, California, Guam, Hawaii, Nevada and the Mariana Islands); ACP Best of Show; and CCMA Best COVID-19 Coverage. 
These awards underscore the significance of the paper's coverage. During the COVID-19 pandemic, for instance, El Leñador staff reported important local news stories about testing, vaccines, and mask mandates in Spanish found nowhere else, Juarez says. 
For her, the most rewarding moments are seeing the paper's impact on students. Juarez says the paper is a labor of love for many. Students build professional skills and portfolios, and contribute to a team project that helps inform and empower communities of color on and off campus. It also helps students share their culture with each other and the campus community, creating a sense of belonging. 
To Karina Ramos Villalobos, El Leñador reporter and former editor in chief, the countless hours spent designing, editing and writing for the publication have been her biggest accomplishment so far. "Being on the staff of the only bilingual newspaper in the county has fueled my passion for community journalism," Ramos Villalobos adds. "As a student journalist, I have developed a wide range of skills that I will carry with me forever, and because of them, I have bigger dreams for my future self."
Former staff members have gone on to work for newsrooms across the state, nationally and internationally including National Public Radio, KQED, Telemundo, Univision and Euro News, as well as communications specialists, or in legal and social work fields. 
All students are welcome to join the paper, which in addition to newsroom experience, also provides interdisciplinary opportunities. Staff come from many disciplines such as Spanish, English, Critical Race, Gender & Sexuality Studies, Communication, Art & Film, Political Science, Environmental Studies, and more.
Shareen McFall, one of the paper's founding members and its first editor in chief, is deeply humbled by what she says has become one of the strongest bilingual student-led newspapers in the state. 
"El Leñador is crucial to Humboldt County as it gives a voice to the marginalized. It represents the core values of empowerment through journalism," says McFall.
Reflecting upon its decade of coverage, Ramos Villalobos also recognizes the dedication from staff members who've cultivated the paper into what it is today. "El Leñador's 10-year anniversary is a representation of generations of powerful and dedicated journalists that planted the seeds, saw it grow and continuously are working to expand the stories needed to be told off and on campus." 
El Leñador staff, alumni and faculty will celebrate the paper's 10th anniversary on Thursday, April 13 and Friday, April 14. The public is invited to a reception at the Great Hall at Cal Poly Humboldt from 4 to 6:30 p.m. on Thursday, April 13. On Friday, April 14 there will be a series of workshops with El Leñador alumni from 9:30 a.m. to 1 p.m. in Nelson Hall East 102. For more information about the reception and workshops, visit ellenadornews.com/10-year-anniversary.