Over the summer, Humboldt State University engineering students took their resources and knowledge and put it to the test in other countries.
The HSU Dominicana Program traveled to the Dominica Republic May 30 through July 8 with Environmental Resources Engineer lecturer Lonny Grafman. Professionals and members of Engineers Without Borders (EWB) Northcoast Professional Chapter collaborated with Arcata-Camoapa Sister City Project and traveled to Camoapa, Nicaragua July 31 to Aug. 6.
Image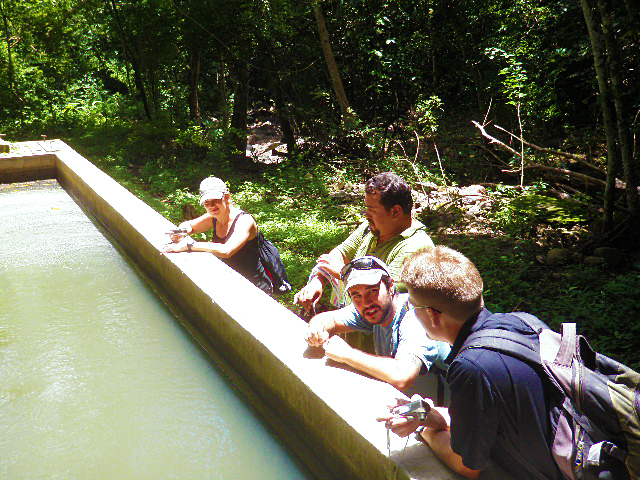 Grafman led engineering students, enrolled in the Dominicana Program, to Santo Domingo, Dominican Republic. Lauren Adabie, sophomore Environmental Resources Engineering and Chemistry double major, was one of the students who worked with Grafman in the Dominicana Program. "It was a lot of fun working with Lonny. He was a great mentor and a great teacher," she said. "He seems to be able to get everything done and there was a lot that needed to get done."
Upon arriving in Santo Domingo, the team did not have specific tasks until the community voted for what their greatest needs were. "When we get there we have no idea what we're building," Grafman said. "We work with the community members to see what the needs are."
This year, the Santo Domingo community rated their top needs for improvement as education, energy and water costs, trash and crime. With a 6-week timeline, the group managed to build an alternative classroom, install renewable energy infrastructure to help offset energy costs, a rainwater catchment system to reduce water costs by collecting their own water, conducted two solar feasibility studies and installed a solar photovoltaic learning station.
Students worked together with community members to get the most out of the available resources to complete these projects. For example, they used bicycle parts and waste product from a newspaper press to make a homemade wind-powered lighting system to light a classroom. The group also constructed a new classroom from alternative materials, including walls built in which the framing was made up of plastic bottles held in place by chicken wire and coated with concrete and cement. A full description of the project is available at Appropedia, the web's greenest do-it-yourself guide at http://www.appropedia.org/La_Yuca_appropriate_building.
The school, Escuela Primaria Nurys Zarzuelain, had faced being shuttered because it was too small and lacked enough classrooms. "This was an experiment to see if the school could last with used materials," Grafman said. In August, the team found out the classroom was approved as an official classroom for a new class.
"Since completing the study abroad program in the Dominican Republic, I am more aware of sustainable innovations and the beneficial impact that appropriate technologies may have on a community," said junior Environmental Resources Engineering major Alex Bancroft.
A month after Grafman's team returned home, four students and three professionals boarded a seven-hour flight to Camoapa, Nicaragua and worked on projects for the community. Camoapa has been Arcata's sister city since 1986.
"Our primary goal was to investigate the installation of a well and pump to provide a source of water to the hospital," said Tony Llanos, the project lead and instructor in the Environmental Resources Engineering Department. They spent a week investigating the area and collecting data for the electrical connection and pipeline alignment.
"The distribution system was built 10 years ago and is more than halfway full of sediment which sends a lot of deposits to treatment plants," said Emily Wortman, senior engineering major and EWB member. Large amounts of sediment in the water can taint a community's water supply and is currently decreasing the amount of water the community's reservoir can hold.
Language barriers, minor food illnesses, mosquito nets, tropical heat waves and bucket showers were just some of the factors that made the Nicaragua teams trip a unique experience. "Everyone in the group rolled with it and adapted," Llanos said. "Even when we were offered a home cooked meal of bull testicle soup, everyone tried it. Its actually pretty good!"
Image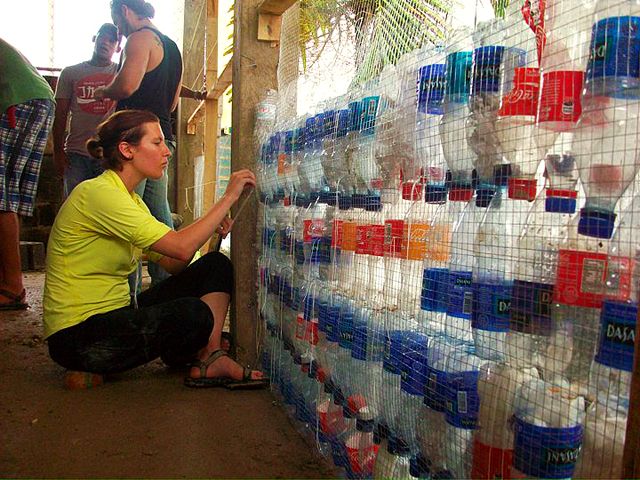 The Dominican Republic team experienced its own share of barriers. "All of these projects had to be built in an urban context," Grafman said. Grafman described the roads in Santo Domingo as very narrow and difficult for two people to walk through, let alone carry tools through. "Weather and brown outs also affected our production time," Grafman added. "No power, tropical storms, not having the right equipment and yet all the students thrived."
Gregory Pfotenhauer, Environmental Resources Engineering major, attended the HSU Dominicana Program and said, "There was a lot of trial and error involved with the building process. We had to design for an environment that most of us weren't used to. It was a constant necessity to re-design as things became unfeasible, or materials became unobtainable," he said.
Pfotenhauer also faced a similar barrier the Nicaraguan team faced: language. He learned that Spanish could be expressed in different forms, dependent upon country. "The greatest cultural barriers I experienced were linguistic. Even for fluent Spanish speakers, Dominican Spanish can be a challenge," he said. "Learning by immersion greatly boosted my confidence as a Spanish-speaker."
Despite the challenges in Nicaragua, Sterling Wallstrum, senior Environmental Resources Engineering major and EWB president, enjoyed the whole experience. "Its definitely beneficial experience because its practical work experience and definitely motivating," he said.
After collecting enough data and speaking to local officials, the Nicaragua team flew back to Humboldt to review their findings and begin designing a pump. As long as there is enough funding to purchase a new pump and a well gets drilled for the hospital, the team plans to head back to Nicaragua next August and help build and install the pump.
Students interested in working with Grafman's class or Llanos's club are encouraged to contact each via email: Lonny Grafman: lonny@humboldt.edu and Tony Llanos: all1@humboldt.edu.