A Hispanic-Serving Institution (HSI) since 2013, Humboldt State is continuing to holistically support students of color on their pathway to graduation with the Diverse Male Scholars Initiative.
Image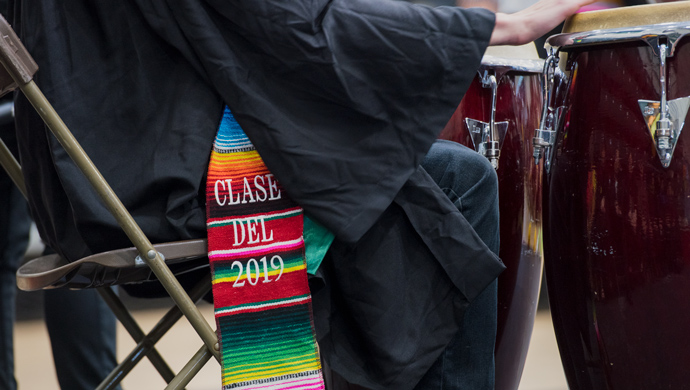 Established in 2018 to address a national crisis in retention and graduation rates for male students of color, the initiative received $74,400 in grant funding from California State University this spring. The initiative complements the University's strong identity as an HSI with additional programming like the Klamath Connection and Creando Raices (Creating Roots) learning communities and Vías hacia la Excelencia Académica (Pathways to Excellence), which support Latinx students at HSU.
In the Spring of 2018, Fernando Paz, "El Centro Académico" Cultural Coordinator, and HSU colleagues attended the Young Males of Color Consortium at Cal State Bakersfield. The event brought together self-identified males of color across the 23 CSU campuses to discuss contemporary concerns in higher education and develop effective strategies to address retention issues in the CSU system.
Building on the framework from the Consortium, Paz explains that enrolling male students of color at HSU is only step one. To be truly "Hispanic-serving," institution should be producing, enhancing, and serving students of color who are thriving as members of their community.
"When students experience a sense of belonging and well-being on campus, or in the virtual HSU community, it helps to promote retention and graduation," explains Paz.
To support the journey from enrolling to thriving, the Diverse Male Scholars Initiative will hold virtual workshops this spring on topics like life skills and time management. Paz is also thinking creatively about how to collaborate with other initiatives in the CSU on issues of masculinity and leadership. Currently, 14 students are enrolled in the Spring 2021 Diverse Male Scholars cohort.
"Right now, we're focusing on how to understand HSU as a Hispanic-Serving Institution," says Paz. "That means visual topography like multicultural art on campus, building a website and branding ourselves, and the hiring and retention of more faculty of color."
It also means understanding the systemic barriers that have prevented more students of color—particularly males—from accessing, completing, and benefitting from a four-year degree. Paz explains that, in years past, HSU has had among the lowest rates of retention and graduation for male students of color in the CSU system.
"We had students walking away with debt but no college degree," says Paz.
At HSU, where the current student body is 33% Hispanic, male Latinx students graduate at a six percent lower rate than white male students.
"To see students thrive, both in the HSU community and after graduation, we need culturally-responsive outreach, support, and mentorship for the male students of color who we know are struggling," says Paz.
Note: This article was first published on Dec. 4, 2020.