Dear Colleagues, I am very pleased to announce that Dr. Eric Riggs, Professor of Geoscience Education at Texas A&M University, will serve as Humboldt State University's next Dean for the College of Natural Resources & Sciences (CNRS). Dr. Riggs' appointment is effective July 15, 2021.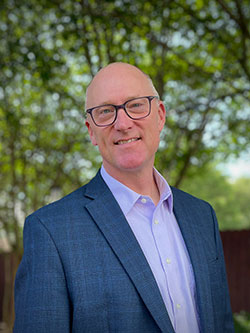 Dr. Riggs has served for the last 10 years at Texas A&M in various roles—most notably from 2011-2018 he was the Associate Dean for Diversity and Climate in the College of Geosciences where he was charged with monitoring the academic climate and diversity of the College and was tasked with taking direct action to improve the environment for an increasingly diverse population of faculty, students, and staff. From 2014-2106 he also oversaw Graduate Affairs for the College and was instrumental in early development of the online professional master's programs which today enroll over 100 remote students in three degree tracks. In this role he also implemented graduate student professional development programs and oversaw curricular management, scholarships and recruiting activities.
At the national level, he served as the 2014-15 President of the American Geosciences Institute (AGI), an international federation of over 50 professional and scientific societies in the earth and environmental sciences. He is also a Past President of the National Association of Geoscience Teachers (NAGT). On behalf of AGI, he served as the Chair of the Ad Hoc Committee on Harassment in the Geosciences, shepherding the 2018 adoption of the federation-wide position statement against harassment of all forms in the geosciences. He has provided advisory and consulting services for the National Science Foundation, the National Research Council, Canada's NSERC, and universities and companies worldwide.
From 2000-2014 Riggs directed the Sharing the Land Project, a project funded by the National Science Foundation with the purpose of making the geosciences accessible and beneficial to Native American communities primarily across California and with reach into other regions of the Southwest and north central United States. The goals of the project were to increase indigenous representation in the geosciences and enhance scientific sovereignty for tribal communities.
Dr. Riggs co-directed a science education research center and served on the faculty at Purdue University from 2006-2011. From 2000-2006, Dr. Riggs was a faculty member at San Diego State University and served as the Assessment Coordinator in the Division of Undergraduate Studies from 2005-2006 for the pICT Project and WASC Reaccreditation campaign.
"I am thrilled and honored to be invited to serve as the next Dean of CNRS at Humboldt State," says Riggs. "I look forward to bringing my passion for inclusive and innovative undergraduate and graduate education and research to the College. CNRS has a wealth of talented faculty, staff, and students as well as impressive programs and facilities and extraordinarily deep community connections. Humboldt State is at a very important juncture in its history, and the College has the pieces in place to drive transformative innovation in natural resources and sciences education and research in the coming years. I look forward to working with all members of the College and our community to refine and implement our shared vision, purpose, and future."
Dr. Riggs' recent work includes studies of academic field choice in geology as a function of gender, and the role of gendered and minoritized experience in field-based learning environments and the resulting influence on career paths. He has been the primary or co-investigator on $10.6 million in research and programmatic funding from the National Science Foundation, NASA, and other sources.
I am delighted to have Dr. Riggs join our leadership team at HSU particularly during this transformative time as we work toward a polytechnic designation. Dr. Riggs' experience in STEM education, coupled with his commitment to creating access and equity, make him the ideal choice to serve as the next dean of the College of Natural Resources and Sciences.
Please join me in welcoming Dr. Riggs to HSU!
Sincerely,
Jenn Capps
Provost and Vice President of Academic Affairs