The same waves locals ride to shore at well-known surf spots like Houda Point may also hold the answer to rising energy costs.
Professor Steve Hackett, an economist at Humboldt State, is examining the economic and social aspects of wave energy generation off the California coast. As part of the Energy, Environment & Society speaker series sponsored by the Schatz Energy Research Center and the Environment & Community graduate program, Hackett will deliver a lecture titled "Economic and Social Considerations for Wave Energy Development in California" on Thursday, Oct. 23 at 5:30 p.m. in Founders Hall 118.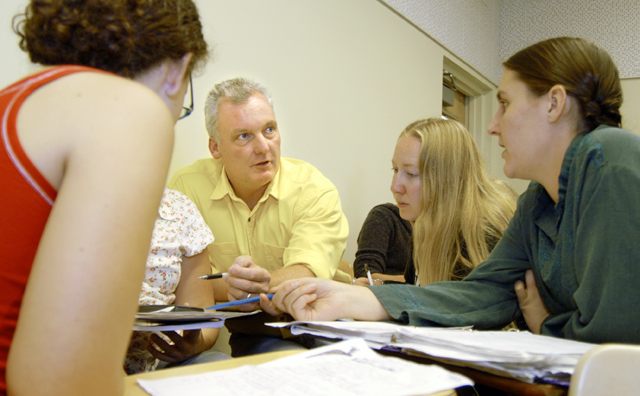 After receiving the go-ahead from the federal government recently, various entities ranging from the County of Sonoma to Pacific Gas & Electric have begun researching the feasibility of generating grid energy from ocean waves. To help legislators craft policy concerning wave energy generation, the California Ocean Protection Council recently called for a white paper to examine what the state needs to consider before moving forward. While physical and biological scientists, including Humboldt State's Dr. Greg Crawford, an oceanographer, are writing the bulk of the white paper, the project coordinator contacted Hackett to look into economic and social issues such as commercial fishing, recreational boating and other potentially conflicting uses of the marine environment.
"Commercial fishing is one of the biggest concerns for the North Coast," says Hackett who has conducted significant research concerning California's commercial fisheries. "But, right now, we don't have very high resolution spatial data. That means we don't know where people are catching fish, at what times of year and so on. We also don't have very good data about where people are recreationally fishing."
The lack of such data, Hackett says, makes it difficult for scientists to determine where wave energy farms should be located so that they don't adversely impact fisheries. Additionally, navigational issues need to be addressed to ensure boats don't run afoul of the buoy-like devices that generate the energy.
Hackett notes that the North Coast is the primary focus of such projects as the waves off the state's northern shores are more powerful than those in Central and Southern California. This raises another factor to consider. Wave farms must be located near high voltage transmission lines in order to push their power onto the grid, Hackett explains, and, on the North Coast, ports offer some of the few areas with ready access to high voltage transmission lines. So, if a wave energy farm were to materialize off the Humboldt County coast, the developers may want to site it near facilities such as the mouth of Humboldt Bay. What that would mean for commercial fishing, recreational fishing and boating, navigation and a myriad of other issues needs to be researched further, Hackett says.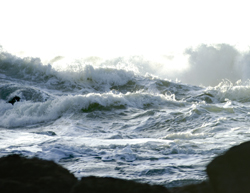 While concerns exist and more study into the biological, economic and social considerations is needed, Hackett sees wave energy as a promising alternative to the use of fossil fuels.
"Wave energy development is potentially a very vital, renewable energy resource and could enhance the economic development of the North Coast," Hackett says. "The fact that there are possible impacts doesn't take away from the fact that it's very worthwhile to research and try to understand if there's a way we can have wave energy development, sustain our fisheries and have a safe ocean environment."
Currently, wave energy developers like Pacific Gas & Electric are conducting initial tests using study permits issued by the Federal Energy Regulatory Commission. After the study permits expire, wave energy developers will have to determine the most feasible plan for commercial use and obtain a license to begin installing a system.
"Even being optimistic, we're probably three to five years away from this being commercially available, unless there was a massive public policy prioritization on projects like this," Hackett says.