A faculty and staff exhibition featuring artists working in Humboldt State University's Art Department opens at the Reese Bullen Gallery with a reception for the artists on Thursday, October 27 from 4-6 p.m., and runs through November 17. The public is invited to attend.
Image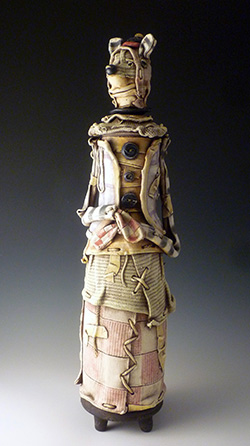 This exhibition provides the public with an opportunity to see the professional work and diverse talents of instructors in the HSU Art Department.
The artists explore a wide spectrum of traditional and nontraditional forms, themes, and styles through a variety of mediums including: painting, photography, printmaking, sculpture, metalsmithing, jewelry and drawing.
For the HSU art student in particular, this exhibit provides exposure to their mentors' ideas and varied approaches to making art, which fosters a creative community and provokes a continuous cycle of innovation.
The Reese Bullen Gallery, named in honor of a founding professor of the Art Department, was established in 1970. The gallery is located in the HSU Art Building, at the intersection of B Street and Laurel Drive, located directly across from the Van Duzer Theatre.
The gallery is open Monday, Tuesday, and Wednesday 12 to 5 p.m., Thursday 12 to 7 p.m., Friday 12 to 5 p.m., and Saturday 10 to 2 p.m., with free admission to exhibits and events. For more information about the gallery, please contact the gallery office at (707) 826-5814 or rbg@humboldt.edu. For parking information, please visit humboldt.edu/parking.